The broker said it had reached an 'impasse' with the United States Department of Justice, despite progress last week regarding a potential settlement agreement
Broker Aon has scrapped its $30bn mega-merger with Willis Towers Watson (WTW) today (26 July 2021) after being challenged by the US Department of Justice (DOJ) over competition concerns.
Last month, the DOJ sued to block the buyout, alleging that the merger would reduce competition in the reinsurance broking, retirement, pension planning and private retiree multi-carrier market, therefore leading to higher prices for American businesses and customers, according to Reuters.
The two firms said they would end litigation with the DOJ and Aon would pay a $1bn termination fee to WTW.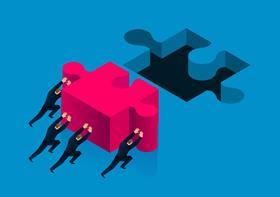 Aon's chief executive Greg Case said: "Despite regulatory momentum around the world, including the recent approval of our combination by the European Commission, we reached an impasse with the US DOJ."
First announced in March 2020, the Aon-WTW deal would have seen the world's second and third largest brokers merging to form a combined $80bn business.
'Out of step'
Last week, a federal judge narrowed the scope of the lawsuit after both Aon and WTW agreed to divestitures.
A video sent to employees shows Case explaining the rationale for dropping the acquisition plan.
Case said: "The DOJ position is remarkably out of step with the rest of the global regulatory community and we were confident that we would win in court.
"Unfortunately, while we requested a speedy trial, the current course with DOJ would likely have taken us well into 2022.
"At best, [the] DOJ's perspective demonstrates a fundamental misunderstanding of the marketplace. At worst, our combination was blocked by poor timing and other factors ultimately outside our control."
In a statement published on Aon's website, Case continued: "The DOJ position overlooks that [Aon and WTW's] complementary businesses operate across broad, competitive areas of the economy.
"We are confident that the combination would have accelerated our shared ability to innovate on behalf of clients, but the inability to secure an expedited resolution of the litigation brought us to this point."
The agreed divestitures agreed by the companies included Aon's US retirement unit, US retiree healthcare exchange and its retirement business in Germany. Also included was WTW's global reinsurance business.
A divestiture is the process of selling off a subsidiary business's interests or investments.
EU antitrust regulators approved the acquisition earlier this month, subject to the divestment sales.
WTW chief executive John Haley added: "Our team's resilience and commitment are a source of pride and confidence. They have continued to bring to life Willis Towers Watson's compelling value proposition to better serve our clients in the areas of people, risk and capital.
"Going forward, our focus remains steadfast on our colleagues, our clients and our shareholders. We believe we are well positioned to compete vigorously across our businesses around the world and will continue to introduce important innovations to the market.
"We appreciate and deeply respect all the Aon colleagues we got to know through this process."
Case continued: "Over the last 16 months, our colleagues have turned potential challenges into opportunities to advance our Aon United strategy.
"We built on our track record of innovation, continued to deliver industry-leading performance and progress against our key financial metrics and move forward with the strongest colleague engagement and client feedback scores in over a decade.
"Our respect for Willis Towers Watson and the team members we've come to know through this process has only grown."
WTW said it will increase its existing share repurchase programme by $1bn, reported Reuters. Aon's shares are currently up 4% at $242, however WTW's stock was down 3.5% at $218 in pre-market trading.
Insurance Times contacted Aon and WTW for further comment, but WTW declined.