Market regeneration is also likely once hard market conditions ease
The recent whirlwind of intermediary M&A activity has led to concerns from some insurance professionals about consolidation in the broker market - however, this should be viewed as a natural process that generates opportunities for new entrants to the market.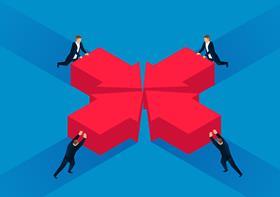 This is according to Janthana Kaenprakhamroy, chief executive of MGA Tapoly, who spoke at a panel debate entitled Consolidation in the broking industry: Are there any more players to be bought? at Insurance Times' BrokerFest 2022 conference today (16 June 2022).
Kaenprakhamroy said: "Consolidation is a natural progression during the hard market – people need scalability and they need profitability, which can only come from consolidation businesses."
In February 2022, advisory firm Imas revealed that 2021 had seen the highest number of insurance distribution M&A transactions ever recorded, with 145 deals forming a total value of more than £6bn.
This represents an opportunity for new broker entrants to the market, according to Kaenprakhamroy.
She said: "When we consolidate a pool of businesses looking for standard legislation and standardisation, this usually leads to standardised products.
"So, there will always be a gap for niche products or embedded insurance products that larger groups are not interested in participating in. This certainly opens up opportunities for startups to fill that gap."
Regeneration
Mike Edgeley, chief executive of intermediary business The Clear Group, said that he was an "eternal optimist", believing that the broker market would continue to regenerate and repopulate with new entrants to the market, despite consolidation.
He explained: "Frankly, if I was 20 years younger, I'd be thinking 'what a great opportunity to set [a broker] up' knowing there was a really strong possibility of joining a bigger entity at some point down the line.
"That will drive the regeneration."
Kaenprakhamroy added that current consolidation trends would continue in the short term, but would "slow down" in the longer term.
She explained that once hard market conditions softened, the sector would "probably see more separation or new entrants".
The panel discussion, which was chaired by Insurance Times editor Katie Scott, also featured Phil Bayles, chief commercial officer at Ardonagh Advisory.