Here we feature Geobear, Sedgwick and Legal & General's joint entry into the Claims Service Solution of the Year – General category.
Geobear, Sedgwick and Legal & General entered a redesigned end-to-end process for on-site subsidence repairs into this category – to see more fantastic Q&As from finalists, click here
What key achievement did your entry highlight?
Throughout the Covid-19 pandemic we have designed a whole new process to deliver every on-site subsidence repair project. In partnership with Sedgwick and Legal & General Insurance (part of LV= Insurance Group), Geobear redesigned our end to end process to meet the Covid-19 challenge.
In spring 2020, against a backdrop of lockdown, postponed on-site projects, and suffering customers, a new and safe delivery solution was implemented. From pre-work customer comfort interviews, advanced material procurement, project redesigns, and a totally new on-site delivery method, every part of the process was rebuilt to make it happen.
Can you share data or testimonials to back up your bid to win?
Over 600 properties suffering from subsidence were safely stabilised during lockdown restrictions
Ninety-eight per cent of planned projects were completed on time during the pandemic
We achieved an NPS score of 73.1, with an average rating of 9.2 / 10 through the pandemic
"Geobear have adapted and performed outstandingly for our customers throughout the Covid-19 pandemic, maintaining their excellent levels of customer satisfaction." Legal & General (Fairmead)

"They talked us through their new Covid process, and made us very comfortable. We [had] assumed the work would be postponed for a year!"
Ms. Thacker (Customer)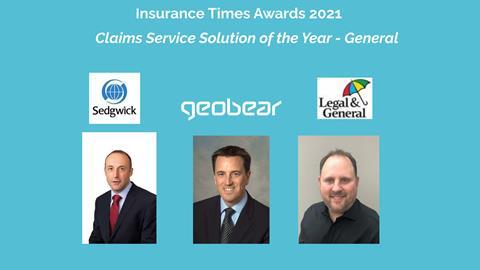 What sets your firm apart from the other shortlisted contenders?
As usual, there are some great and worthy entries this year. While most property repair works and solutions had to be delayed and postponed during the pandemic, we managed to transform our operation to continue to safely deliver projects almost as normal. From revised project designs to new on-site methods and bespoke teams, we avoided the need to delay or postpone over 300 projects.
We think this will be a unique type of entry (hopefully !), but one where the end customer has truly benefited.
How will you celebrate if you are the victor?
Well, that will somewhat depend on covid restrictions! If we are fortunate enough to win, our plan is to hold a real face-to-face celebratory dinner event, with tickets sold to raise money for our chosen charity.