Chapman and Stacey's managing director Paul Wingfield tells to Insurance Times about the MGA market and the key services brokers are seeking following this year's MGA survey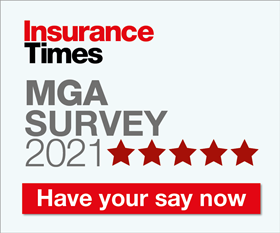 As UK brokers respond to the 2021 MGA Survey, Insurance Times take this opportunity to speak to MGAs on the current and future challenges they face and their broker partners.
The following Q&A explores the 2021 Insurance Times MGA survey addressing broker concerns surrounding capacity, innovation, underwriting and more.
Here, we speak to Paul Wingfield, managing director at Chapman and Stacey Ltd.
Brokers are coming forward to rate their MGA partners in the 2021 Insurance Times's MGA Survey, what do you feel sets your MGA apart from your competitors?
Certainly, I think our speed and accuracy are market leading, with an average quote turnaround of under two hours for all products. We have developed a range of products that can support our brokers across most classes and risk types with a wide underwriting footprint that can support both standard and non standard risks.
We have a great team of experienced and positive underwriters who have worked really hard to support our brokers through this unusual period.
The 2021 MGA survey aims to investigate the service levels of MGAs over the last 12 months, please tell us about the last 12 months at your MGA and how it has adapted to challenges?
I am happy to say that our service levels have been fully maintained from day one of lockdown in March 2020 right the way through to today. Chapman and Stacey has always been a business that has utilised technology, so when the moment came to shift to a remote working environment this was not a particular challenge in itself. Some things inevitably changed, such as how the team communicates when they are all in different locations, but we have found our efficiencies in the new way of trading and can take plenty of plus points from this unforeseen need to adapt .
Please tell our readers why you feel the underwriting process used at your MGA stands out?
We believe our blend of technology, data and human underwriting experience is a stand out process, and we use this to get the very best outcome. Where appropriate, we trade in auto-rated environments, such as Open GI's 'powerplace' and SSP's 'marketplace' but this is a fairly small portion of our overall distribution.
We place strong value on our underwriting team's intelligence, experience and market knowledge and we are careful to make sure the human touch is retained where it adds value.
Our use of data on an efficient underwriting platform enables a 'real life' team of experienced underwriters to consider how to use that data in the right way and to deliver the right outcome for our carriers and our brokers, all at a speed that competes well with even 'auto-rated' distribution methods.
In the MGA survey brokers will be expressing their concerns & challenges for the year ahead. What are your concerns and challenges in the year ahead and how do you aim to alleviate these challenges?
We are looking forward to the year ahead and mainly see 'challenges' as opportunities and we will work hard to continue our organic growth and capitalise on these opportunities as they arise .
There are concerns of the potential scenario of the reduction or removal of capacity from an MGA. Should brokers have this concern whilst working with your MGA?
No, that really should not be a concern when dealing with Chapman and Stacey. Part of our business model, since we became an MGA many years ago, has focused on continuity and stability.
For us, this means working with carriers that support our ambitions of long term stability and who are prepared to back this with long term capacity commitments.
We have been very successful in this regard and all of our current capacity partners have been with us for at least five years or have committed to being with us for that period going forward.
The quality of support provided to brokers was a major factor for why certain insurers performed well and not so well in the Insurance Times commercial lines survey. Please tell us in more detail what brokers can expect from your MGA when it comes to quality of support?
Thankfully , this is already a really strong area for us. For new business, amendments and general admin, we have an average of a two hour turn around, which at busy periods stretches to a maximum of four hours. If there are ever specific instances where insurance market or other infrastructure means this cannot be achieved, then we take care to explain to our brokers and enable them to manage client expectations. We deliver renewals comparatively early, to ensure plenty of time to work with our brokers and their clients on the coming years cover.
What new developments do you have in store for your broker community across the next 12 months?
On the product front, marine cargo and freight liability products should launch in the next quarter, along with a stronger professional indemnity offering. Additionally, there will be some tweaks to our underwriting footprint to reflect market opportunities and there will be additional insurer capacity coming on board to work with us in these areas.
We remain interested in any bespoke schemes or facilities that our brokers wish to develop and will continue to work on these, and will help the existing pipeline facilities we are already working on launch over the coming months.
If your MGA took part in last year's survey, please answer the following question. What was the reaction to the star rating awarded by brokers and what impact did it have on your MGA going forward?
To rated positively is always pleasing and this was certainly the case last year. I am sure the rating was of value as reference point to those brokers who did not yet work with us and helped them in deciding to establish a relationship. Certainly, we had a strong year of growth over the last 12 months.