Dual Group's Alan Telford tells Insurance Times's Savan Shah about the MGA's new developments for the broker community, as well as explains how achieving four stars from brokers in last year's MGA survey has impacted the business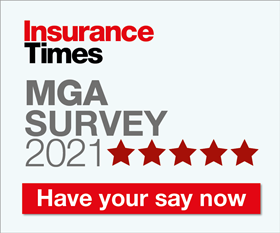 As UK brokers respond to Insurance Times's 2021 MGA Survey, which is closing at the end of this week, Insurance Times speaks to MGAs on the current and future challenges they face.
Here, head of research Savan Shah catches up with Alan Telford, global chief underwriting officer at Dual Group.
Brokers are coming forward to rate their MGA partners in the 2021 Insurance Times MGA Survey. What do you think sets your MGA apart from your competitors?
Since we were founded in 1998, Dual Group has always been underwriting led rather than market share driven.
Our size and scale are differentiators, as well as our access to Lloyd's and company markets.
Our independent ownership means brokers can work with Dual Group, confident that we're not for sale. It also means we can invest in our business, in technology and in innovation with a long-term outlook.
This independence is reflected in our entrepreneurial culture, which pairs local expertise with the ability to leverage global knowledge.
The 2021 MGA Survey aims to investigate the service levels of MGAs over the last 12 months. How have the last 12 months been at Dual Group? How has it adapted to the challenges of the last year?
In 2019, Dual Group invested in technology right across our business, which meant we were able to move seamlessly from mainly office-based to virtual working.
Throughout the pandemic, we are proud that our underwriters have been available and we have always been able to give our brokers an answer. Broker feedback has been positive and in business terms, Dual Group is having our best year ever.
Why do you feel the underwriting process used at your MGA stands out?
Dual Group's vision is to be the best underwriting business in the world, which informs everything we do. One example of this is despite the fact that we retain no risk, we have a team of actuaries that are focused on constantly improving our results.
Dual Group's independent ownership means we can take a longer-term view in building strong relationships, not just with our carriers but also our broker partners.
In the MGA Survey, brokers will be expressing their concerns and challenges for the year ahead. What are your concerns and challenges in the year ahead and how do you plan to alleviate them?
As a people first business, Dual Group's priority is our employees. By focusing on their wellbeing, we enable them to focus on supporting our brokers and their clients. This includes a flexible approach to ways of working as we move out of the pandemic.
From an underwriting perspective, we see a year ahead full of change as the world reopens, particularly with the withdrawal of government support for many sectors and businesses.
Our focus will be on supporting our brokers and their clients through this challenging period, aiming to be part of the solution.
In terms of the potential reduction or removal of capacity from an MGA, should brokers have this concern while working with your MGA?
Dual Group is rightly proud of its carrier relationships. We work with over 60 leading (re)insurers and have an average relationship of over six years - many are longer than this, however.
We believe they work with us because of our consistent focus on underwriting excellence. While some carriers have changed their MGA strategy, irrespective of results, Dual Group has been able to replace them.
The quality of support provided to brokers was a major factor for why certain insurers performed well - or not - in the Insurance Times commercial lines survey. What can brokers expect from your MGA when it comes to quality of support?
First and foremost, Dual Group is an underwriting business, which means our focus is on delivering the best solutions for our brokers and our clients.
Our underwriting teams offer brokers deep knowledge and expertise in their business lines and we pride ourselves that this means brokers can come to Dual Group knowing they will receive a thoughtful and proactive response with a strong focus on service throughout the process.