'Our message to brokers is make sure you arrange cover for your clients' IP and give them the means to defend themselves,' says head
Pen Underwriting has launched a new intellectual property (IP) proposition to protect UK businesses against the risk of infringement.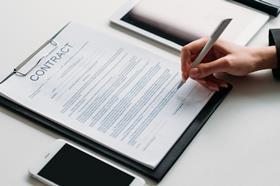 A statement released today (14 November 2023) said the solution will provide cover for a range of risks, such as contract breach allegations and infringement liability.
It will be backed by insurer Tokio Marine Kiln (TKM) and aimed at firms with plans for international roll-out.
The proposition's modular basis can cater for all sizes of business and most industry sectors, from start-ups and small and mediums sized enterprises (SMEs) to large or complex companies.
And Pen Underwriting's plan is to bring "additional underwriting expertise and broker choice to a limited market where risks and exposure are increasing".
Erik Alsegard, head of intellectual property at Pen Underwriting, said: "With the demand for IP insurance expected to grow strongly due to the corresponding rise in the value of intangible business assets, brokers are looking for more choice in a limited market, which we are excited to provide.
"Combining the expertise of specialist underwriters at Pen who really understand this area of risk and exposure for their clients, with the backing of a carrier like TMK who is equally experienced in IP insurance, provides a powerful new proposition."
Broker message
Pen Underwriting is launching a new IP product after investing to create a dedicated new IP underwriting practice earlier this year.
It came after the firm found that the majority of the value of today's businesses tied up in their intangible assets increased from 32% in 1985 to 90% in 2020.
"Typically, mention of intellectual property rights conjures up images of life sciences or technology firms, innovators and inventors pushing at the very boundaries of what's possible," Alsegard said.
"But the fact is every company, large and small, carries risk arising from intellectual property, whether they are aware of their exposure or not.

"So our message to brokers is make sure you arrange cover for your clients' IP and give them the means to defend themselves in the event of an infringement claim.
"Losing the right to IP, or to selling products or services due to an IP dispute, can have a devastating effect on a business."

James is the deputy news editor at Insurance Times and joined the publication after several years working as a reporter.

His career began in 2019, when he joined a local north London newspaper after graduating from the University of Sheffield with a first-class honours degree in journalism.

Now working within the insurance sector, James has a particular focus on motor, M&A activity and financial reporting.
View full Profile