Many parts of the country have flooded this summer, with the cost to insurers running into the hundreds of millions. Now more than ever, the government and insurance industry need to come up with a solution to pay for defences and ensure that flood-prone homes are still insurable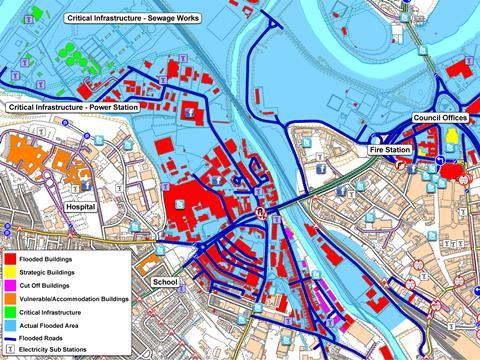 The best that can be said of this summer's floods so far is that they could have been worse. The ABI has concluded that the cost to the insurance industry is likely to be several hundred million pounds, which at least is not as bad as the £3bn caused by the flash floods of 2007.
That, though, is just about it for the good news, such as it is. This will still be the most financially crippling summer for the industry in the past five years and continues a general upward trend in flooding over the past decade or so as climate change has disrupted the UK's seasonal weather patterns.
Most worryingly, the ABI's industry agreement with the government, the Statement of Principles, expires on 1 July next year. There have been signals that a replacement scheme will soon be agreed, but with costs rising and a lack of political certainty, the most at-risk homes and commercial properties in the land face either severe hikes in their premiums or having no insurance at all.
The Statement of Principles effectively binds insurers to offer cover where the probability of flooding is once in every 75 years or longer. Insurance is also available to properties at greater risk, provided that flood defences are planned within the five years after the policy is taken out.
The agreement was set up in the wake of the 2000 floods, which caused around £1bn of property damage, and it includes restrictions that keep the policies at affordable levels. The ABI has estimated that nearly four-fifths of the most flood-prone properties are paying too low a premium.
Unsustainable
One-sixth of all British properties are considered flood risks, with more than 800,000 expected to be classified in the highest flood warning category in around 20 years. It is a position that is unsustainable for the industry, and the ABI has warned that there will be no renewal of the agreement.
Earlier this month, the government's climate change subcommittee warned that public sector cuts to flood defence construction needed to be reversed as heavy summer rain could quadruple over the next two decades. The wettest start to a summer for more than a century has provided a further warning.
At around the same time as that report was launched, environment secretary Caroline Spelman announced that she was close to agreeing a new deal with the industry that could add 10% to the average home insurance premium. By catching virtually everyone with this new levy, it would stop insurers refusing cover to those in homes and businesses in the areas most likely to flood.
The government should be investing about £200m a year into flood defences, otherwise I think that it's inevitable that some properties will be uninsurable from flooding risk"

Barry Gardiner, Labour MP
That was supposed to provide some succour to an industry that has become increasingly worried about the stand-off. Instead it gave voice to a legion of critics. For example, Brokerbility chairman Ashwin Mistry immediately hit out that this was a "tax by stealth" that failed to tackle climate-change issues and the need for improved defences.
Barry Gardiner, a Labour MP who sits on the environment, food and rural affairs select committee, says the government needs to put "billions of pounds" into flood defences or the insurance industry will not be able to cope.
He told Insurance Times: "The investment going in simply is not enough to keep pace with the weather pattern changes that are going on, so the problem is growing all the time. The government should be investing about £200m a year into flood defences, otherwise I think that it's inevitable that some properties will be uninsurable from flooding risk."
Throwing money
There is obviously a political edge to this comment, with the industry at large sceptical that a government of any colour is ever likely to hold its part of the bargain. Richard Berridge, managing director at Vasek Insurance, which covers investment properties and unoccupied homes, says: "The Statement of Principles was a good idea at the time, but I don't think that anyone ever had any confidence that the flood defence spending levels would be met.
"Flood spending should have been maintained, but in the long term you can't just keep throwing money at a problem. Even if you put, say, £10bn to build flood defences, there are only so many hands that can actually build them."
Berridge believes that the government could consider establishing an equivalent of Pool Re, used to cover terrorism, whereby leading insurers pool their resources and the Treasury acts as reinsurer of last resort. But he concedes that terrorism can harm "anyone, anywhere", whereas flooding would be a harder sell as it hurts only certain areas.
For its part, the government claims to still be spending significant amounts, arguing that 60 new defence schemes start construction this year, while Spelman says that the "internal industry levy" model that is being devised will try to "avoid poorer policy-holders subsidising wealthier ones".
The Statement of Principles was a good idea at the time, but I don't think that anyone ever had any confidence that the flood defence spending levels would be met"

Richard Berridge, Vasek Insurance
In his response to Spelman's statement, ABI director of general insurance Nick Starling was a little more circumspect in tone, simply admitting that the body was "currently at an advanced stage in our discussions with government".
Interestingly, Spelman herself admits that there needs to be "a step change in government's role in the management of flood risk", conceding that the details of the scheme need to be fleshed out and properly examined.
With parliament notoriously slow, this leaves some risk that the current agreement could expire before the new one is finalised. If there is no temporary arrangement in the interim, there could be a period where properties are left to the mercies of the free market.
What is certain is that with spending tight, the new model will have to rely on advanced mapping techniques to better identify - and therefore mitigate - risk.
Ordnance Survey business development manager Richard Brocklebank says that the group's "addressing data" has been popular with major insurers since the "big event year" of 2000. Smaller players have increasingly used this information, particularly after the Hull floods in 2007.
Terrain models
Addressing data, which shows where properties are on a map, is licensed to insurers by Ordnance Survey and its partners. The insurers can then overlap this with other data sets, such as terrain models, providing a more detailed picture of where is most likely to flood.
For example, in a rural area the postcode can cover a vast distance, meaning that some properties could be flooded and others face little risk. Insuring just on the basis of postcode would be inaccurate and unfair.
Similarly, commercial property insurers find the overlap useful, as a huge factory or business park might have such terrain that one end of the site is more likely to flood than the other.
"We make 5,000 updates to our data every day - change of address, a building just built or demolished," explains Brocklebank. "Geography risk [models] were driven by floods, but now insurers can realise these maps equally apply to all sorts of other scenarios, such as establishing risky areas for crime or subsidence."
With the nation out of money, and the replacement for the Statement of Principles at best vague and facing stiff opposition, such modelling will be vital to at least mitigating some of that risk. In the meantime, both insurers and policyholders will be praying for a solution everyone can agree on.
Talking points …
● What will happen if the government and insurance industry fail to agree a suitable alternative to the Statement of Principles?
● How can insurers mitigate the risk of the effect of flooding? Are mapping tools the answer?
● How much will the 2012 floods cost insurers? At present the cost is estimated to be in the low hundreds of millions, but that could rise dramatically if the rain continues to pour down.