Whiplash reforms will leave many without legal advice or representation for an annual saving for motorists of just £16 on average, according to Access to Justice.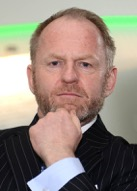 The government's whiplash reforms will save motorists only £16 on their premiums, and then only if insurers pass on the full benefit, according to pressure group Access to Justice.
Using the Treasury's own figures, Access to Justice spokesperson Andrew Twambley (pictured) argued that the reforms, which will leave claimants without legal advice or representation, will save motorists just 30p a week on average.
"For a potential saving of just 30p per week, do Ministers really think it's right that 600,000 innocent injured people a year will be prevented from seeking justice?" Twambley asks.
Under proposals set out in 2015, those making motor-related injury claims of up to £5,000 will no longer be able to recoup the costs of legal advice.
A new tariff system has also been proposed that will lower the amount of compensation from its current level.
With these reforms in place, Access to Justice argues, many people will face being unable to secure legal representation.
Savings cut
The government originally promised savings of £50 per policy if reforms took place. This has dropped to £35 since the discount rate was adjusted to -0.25%.
According to Twambley, the reforms will now only translate to a £16 average annual saving for motorists, or 30p per week.
How has Twambley calculated the drop in savings?
Twambley has worked this out from a table published by the treasury that shows the impact of the changes to motor claims laws to insurance premium tax (IPT) as set out in the 2015 Autumn statement. It shows that by 2021-2, when older cases have "washed through", the total annual revenue lost to the government from the reduction in IPT stemming from lower premiums will be £55m.
Assuming that IPT remains steady at 12%, that implies that total premiums will be £458m.
If this is split between 28 million motorists (28.3m cars are privately registered with the DVLA) then savings will equate to £16.18. This is a 30p reduction per week on average.
A more conservative estimate
The ABI states that 20.1m households have a motor policy. Using this number, motorists would save £22.79 annually, or 44p per week. However, this is still a significant drop of £27.21 from the original figure of £50.
The Access to Justice view
"First the government said drivers would save £50 per policy, then it was £40, then £35, and now it's going to be £16. Moreover, that's £16 that most insurers haven't even said they'll give back to their customers. 77% of the public think insurers will keep any savings for their shareholders," Twambley commented.
He continued, "The government is preparing to drive a coach and horses through this country's civil justice system, which has underpinned our historic rights for centuries, for the sake of £16, or less than 2% of the cost of a typical car insurance policy. That is patently absurd.
"In light of this new information from the Treasury, following the budget, we call on the MoJ to update its official assessment of the impact of the whiplash reforms, so that MPs can decide whether denying legal advice to 600,000 injured people a year for the sake of £16 they'll never receive is a policy this country can be proud of."
The MoJ is already facing a 40% real terms reduction in its budget between 2011-2020, according to Twambley.
He continued: "Bit by bit, the government is removing access to justice from ordinary people and returning the UK to the days when the law is only available for the rich. We urge politicians of all sides to fight this insidious threat to our justice system."
"A2J is not against reforming the current system, as we all want to remove fraud and frivolous claims. Our alternative more moderate approach will achieve the government's objectives, but crucially, injured people will still have access to legal advice."