Problems with large losses been going on for nearly a decade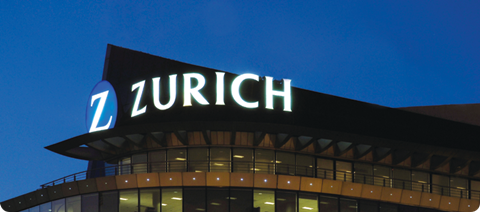 Zurich's new boss Mario Greco has been urged to rectify nearly a decade of underachievement.
In a note pulled together by analysts at Berenberg, newly-appioned chief executive and highly-rated former Generali boss Greco was warned there will be 'no easy fix' for the 'deep rooted problems' in its general insurance business.
The insurer has suffered a double-whammy of a ballooning cost base and worsening claims performance on large losses, it was noted (See Berenberg data estimates below)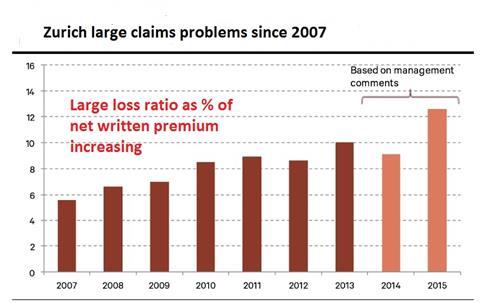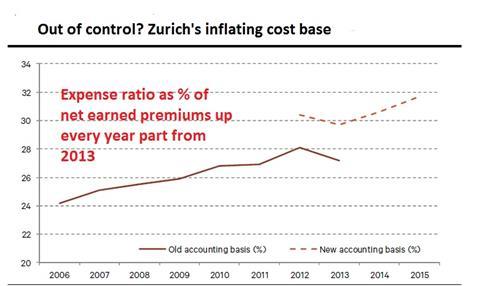 "Such problems are hard to solve in good times, but weakening market conditions and the group's poor track record of operational improvements make the task even harder," Berenberg warned.
Other troubles flagged up by Berenberg include:
The group has taken on under-priced business following a push for growth in target markets, first revealed in 2013
A breakdown in underwriting discipline has led to real problems, an example being the 'extraordinarily large exposure' to the Chinese port explosion last year
The insurer won't be able to lean heavily on reserves, which are likely to be 'relatively low'. Reserve releases have been diminishing since 2010
The firm has been slow to correct its problems, such as those found in its US motor book at the end of last year
Staff morale is likely to deteriorate further amid cost reductions
The bank proposed solutions for Zurich include scaling back from current exposures and beefing up reinsurance; ramping up premium prices for customers; and rapidly putting in place new IT systems to save costs
Berenberg said: "The challenge for the new CEO is to improve Zurich's operational performance, not its financial strength.
"However, given that Zurich has already launched a very ambitious cost savings programme and extensive re-underwriting, we see little room for him to announce further initiatives."
However, in a boost to Zurich, the appointment of Greco has been widely praised. Greco is seen as a turnaround specialist who will get the Swiss insurer back on track.
Barclays analysts noted last month: "The attraction for any CEO to joining Zurich must be the opportunity to improve the earnings profile. Greco is the best placed executive to take an informed view of this potential and so we see this as a very positive sign."
Meanwhile, Zurich has denied that any scaling back will include Hong Kong or Singapore. Sources had suggested to Reuters early this week that an exit was on the cards.
"We would like to clarify that Zurich has no intention of exiting the Hong Kong or Singapore markets," the spokeswoman said in an emailed statement.
"We remain committed to our general insurance and Global Life businesses in Hong Kong, and our general insurance business in Singapore."