The past year has kept us on the edge of our seat – from painful bust-ups in personal injury and racy courtship rumours, to Quinn's tale of woe and musical chairs at AXA. Add in a few of acts of God, and we're hooked for the next instalment
January
The year began with a sheriff arriving in town as, in January, Lord Jackson published his long-awaited plans to clean up the arguably murky world of personal injury and credit hire.
Lord Jackson's proposals included scrapping what he called "abhorrent" referral fees and success fees for lawyers. The plans were largely welcomed by insurers, but legal expenses companies were alarmed, saying it would cut off access to justice. Lord Jackson proved to be a huge talking point throughout the rest of the year, ending up as a Marmite figure: you either love him or hate him.
Other highlights of the month involved two of the biggest names in broking as Towergate chairman Peter Cullum and Giles chief executive Chris Giles confirmed their plans to float in 2012. Giles showed his fighting spirit, when he hit back over a £22.9m pre-tax loss in 2009. In a swipe at his rivals, he declared: "It's the best performance of the consolidators by some way."
January proved to be a big month for flamboyant Markerstudy chief executive Kevin Spencer, when he pulled off a coup by acquiring motor insurer Zenith. Spencer, well known for his penchant for colourful shirts, got noticed for business reasons this time when he nabbed Zenith for a bargain price. Zenith's parent Guardian couldn't take any more hits from bodily injury claims, and washed its hands of the business. Bodily injury claims proved to be possibly the biggest talking point of 2010, with some insurers, notably Equity Red Star and Direct Line, incurring huge losses.
February
More motor mayhem hit the industry in February, led by credit hire company Drive Assist, which was at the centre of allegations that it had falsified hire days to claim extra money from insurers. The accusations, leaked by a whistleblower, were furiously denied by Drive Assist boss Steve Binch.
Elsewhere in the motor market, Zurich lost 20% in revenue following its decision to push up motor rates in 2009. The insurer's reputation with brokers took a hammering throughout the rest of the year, despite UK general insurance chief executive Stephen Lewis's lament that the UK motor market was out of control.
On the acquisition front, insurers had a peek at Kwik-Fit after a memo was sent round saying it was up for grabs. The £200m price tag scared off some prospective bidders, although Fortis, soon to be Ageas, had other ideas.
New Aviva general insurance chief executive David McMillan got his first big headline of the year, when he revealed that Janice Deakin would have full reign on commissions.
Deakin, happy to play Santa even after Christmas had ended, kept brokers smiling by pulling commission deals out of the stocking in the following months.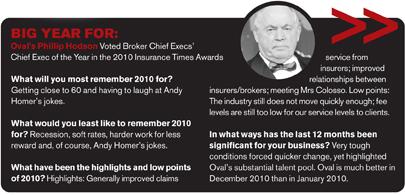 March
March will be remembered for one thing, and one thing only: Quinn. In arguably the biggest story of the year, Quinn Insurance was dramatically placed into provisional administration. The Irish insurer had been the butt of scurrilous speculation in the UK market for some time and was no stranger to the headlines. When the proverbial finally hit the fan, it came as no surprise to Quinn watchers. "There is a God – and he's not Irish," quipped one laughing broker. For the Quinn Insurance business and its staff, this was just the start of a long and painful journey.
Also in March, industry big hitter Chris Blackham spoke exclusively to Insurance Times about his return to the market. Fresh from two years out of the limelight after selling Layton Blackham to AXA, Blackham was back with a bang after his surprise appointment on the board of Lloyd's broker Howden came out of the blue.
Blackham said: "There are plenty of good people in the market and I don't see Bluefin as a hunting ground. That said, I know people in Bluefin, and …"
Meanwhile, at Bluefin, chief executive Stuart Reid was subject of rumours surrounding his future. He hit back with a firm denial: "I've got absolutely no intentions of going anywhere else," he told Insurance Times.
After a year of well-publicised rate rises and rows over commissions with some of the country's largest brokers, Aviva posted results revealing that £1.1bn had been wiped off its premium. UK general insurance chief executive David McMillan described the previous year as the "low water mark" for the business.
Then-chancellor Alistair Darling held the famous red briefcase for the final time when delivering his last Budget before Labour was kicked out of government. But not before there was joy for brokers at the outgoing government's decision to water down its controversial clampdown on insurance premium tax (IPT).
April
Heading into April, the Quinn saga began to really unfold. An incredible five Quinn stories appeared in the top 10 most-clicked stories during one week. Industry pulses were racing.
As brokers tried to digest the full scale of what was happening, Insurance Times revealed that Quinn Insurance wasn't renewing UK policies unless it received written instructions to do so before 6 April. Later in the month, Quinn Insurance was placed into full administration by the High Court in Ireland and then set about trying to plot its re-entry into the UK market, from which it had been banned.
QBE top brass Frank O'Halloran and Steven Burns gave a rare interview to Insurance Times, and the sale of Provident Insurance by US owners GMAC moved up a gear as the motor insurer was given a management makeover.
O'Halloran said: "We're looking for acquisitions in Australia and Asia, and we've spent a lot of time looking here; it is well known that we looked at and missed out on Fortis."
Ultimately, however, April will be remembered for an event that didn't just cause chaos in the insurance sector. Nobody is likely to forget the global fiasco caused by the volcanic ash cloud arising from the eruptions of Eyjafjallajökull. Some insurers paid out, other didn't.
The ABI stepped in to defend claims that insurers were hiding behind an 'Act of God'. The ash cloud ended up costing insurers around £62m.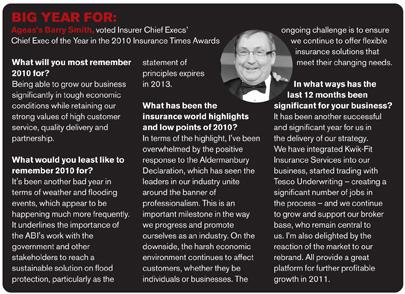 May
The general election, which resulted in the first hung parliament in nearly 40 years, dominated the news in early May. The Conservatives' manifesto pledge to scrap the FSA looked like it would not be a victim of the haggling between the coalition partners.
But while the nation adjusted to life under a coalition government, the sorry tale of Quinn continued to unfold. Chief executive Colin Morgan announced that he was stepping down, while the firm's administrators revealed that staff were queuing up to take voluntary redundancy at the firm.
Aviva general insurance chief executive David McMillan announced a return to growth, with gross written premium up 4% in the first quarter of the year, while RBS Insurance announced 2,000 job cuts as it prepared itself for a sale or flotation in 2013.
Insurance Times also revealed that Graham Meacham, a broker with a previous conviction for making child pornography, was continuing to manage an insurance intermediary operating in the childcare and education sector.
And the chess game began that would eventually see Amanda Blanc return to AXA by the end of the year, as Insurance Times revealed that the insurer's UK and Ireland group chief executive Nicolas Moreau was heading back to France.
June
The pace of change at AXA hotted up in June as Aviva revealed that it had netted its French rival's UK commercial director Ant Middle.
Meanwhile, it emerged that the implementation of the Ministry of Justice's new fast-track system for handling low-value road traffic accident claims had been botched. Insurance Times reported that nearly 50 companies were still not registered on the MoJ's new RTA claims-handling portal a month after its 30 April launch.
The motor market's continuing woes were reflected by Insurance Australia Group's decision to pump an extra £206m into its UK subsidiary Equity Red Star, following a surge in bodily injury claims. IAG UK chief executive Neil Utley blamed the need for the reserves injection on the activities of claims-farming accident lawyers.
Another recurring headache in 2010 was solicitors' professional indemnity; in May, Hiscox announcing that it had decided to quit the increasingly unprofitable market.
Meanwhile at Westminster, chancellor of the Exchequer George Osborne revealed that the coalition government was pressing ahead with his plans to scrap the FSA, despite the Lib Dems opposing the Tory proposals in the run-up to the election. The FSA announcement was followed by the emergency Budget.
Leading up to Osborne's 22 June statement, Insurance Times revealed that the Treasury had been investigating insurance premium tax rates across the EU, with a view to exploring the scope for a rise. When Osborne unveiled his emergency Budget, it contained a 1% hike in the main rate of IPT – the first increase since 1999.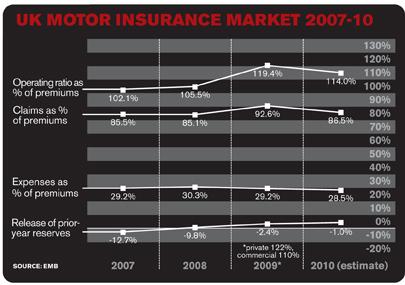 July
July began with two all-too-predictable tales of gloom, as brokers joined Insurance Times to watch the England football team get knocked out of the World Cup painfully early. Again.
Meanwhile, actuarial consultancy EMB's analysis of insurers' FSA returns and industry data revealed that UK motor insurers' 2009 performance had been on a par with that of the country's football team. The private motor industry posted a collective combined ratio of 122% and commercial motor 110%, prompting EMB consultant Naeem Ali to declare that "many motor insurers have gone to the edge".
Poor motor performance reared its head again later in the month when chief executive of Equity Red Star Neil Utley was replaced by Ian Foy after
the company's motor reserve strengthening halved the profits of its Australian parent, IAG. Utley insisted he had been planning his retirement from the firm for months, as he wanted to strike out on his own as an entrepreneur.
Utley was not the only high-profile departure in July. ABI director-general Kerrie Kelly quit unexpectedly after only six months in the job. The ABI cited personal reasons for the abrupt departure, but there were suggestions that some association members were disappointed with her performance.
July will also be remembered by many as the month that Insurance Times kicked off its Fair Fees campaign, as dramatically increased FSCS bills started to land on brokers' doormats.
August
As August began, Giles managing director Sarah Lyons sought to stem competition from former staff members' new ventures by reminding current Giles employees of the consequences of breaching the company's employment covenants. Anyone found breaching the covenants once they left the company would be dealt with "very seriously", said a note from Lyons to staff.
A few days later, another letter put brokers in a spin. This time it was a 'Dear John' note from NIG personal lines head Ben Thornton, informing brokers that the broker-only insurer would no longer be operating in the personal lines market. The news, and the way it was delivered, dealt a further blow to an already struggling insurer and left some brokers feeling betrayed. Topaz Insurance Services director Richard Mikula described NIG's personal lines exit as "a complete disaster".
NIG was not the only division of RBS Insurance to suffer in August. The group as a whole made a first-half operating loss of £253m after it was forced to pump £320m into motor reserves to cover worsening bodily injury claims experience.
Just as the market was recovering from the run of first-half results, the news broke that RSA had bid £5bn for the general insurance business of its biggest rival Aviva. Aviva quickly brushed the offer aside, defending the strengths of its composite, general and life insurance model, but there was continued speculation about whether RSA would come back with a better offer.
Aviva was not the only company having to fend off talk about selling divisions. Once again, AXA had to deny rumours that it was looking to sell Bluefin, saying it had no intention of disposing of the broker.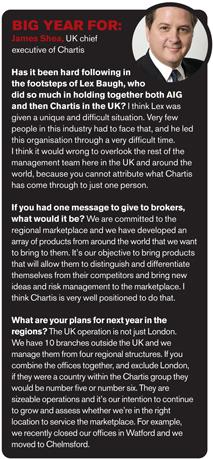 September
The merger speculation continued in September as rumours abounded that Warren Buffett's US motor insurer GEICO would swoop for RBS Insurance. Buffett had said the year before that he and GEICO chair Tony Nicely
"felt like two hungry mosquitos in a nudist camp", and added that "juicy targets are everywhere". With RBSI's sale deadline still some way off, it's unclear whether the insurance group is juicy enough for Buffett and Nicely.
Giles was back in the news with the revelation that the company had applied for an injunction against former employees who had jumped ship to George Stubbs Insurance Services, allegedly breaching restrictive covenants. Managing director George Stubbs claimed no injunctions had been served, but with many broker bosses' restrictive covenants now drawing to a close, how many brokers in 2011 will decide to wave goodbye to the consolidator and go it alone?
Quinn Insurance's rocky relationship with UK brokers ended in September as the company was banned from re-entering commercial lines. Esure Insurance reported a £14.2m loss due to rising bodily injury claims. Perhaps it could take heart from the tongue-in-cheek 'bang up a biddy' campaign suggested by AXA claims director David Williams.
October
The big story of October was the exit of Philippe Maso from the role of AXA UK commercial chief executive, followed soon afterwards by the company's director of customer experience Paul Meehan.
Elsewhere in the AXA empire, Insurance Times revealed that Bluefin Insurance Group had made a £5.3m loss in 2009. Meanwhile, Swinton chief executive
Peter Halpin announced that the firm was back on the acquisition trail.
Aviva stepped up its fight for growth by offering selected brokers an additional 3% commission for new business over £10,000 in the run-up to Christmas. One broker executive described the offer as "fill your boots" time. If Aviva had timed the commission deal with Christmas, perhaps the offers could be called "stocking fillers".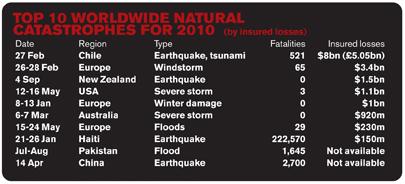 November
Concerns about the sorry state of the motor market reached the floor of the House of Commons in November as the transport select committee launched a snap investigation into recent hikes in driving premiums. When pressed on the issue, Biba's head of corporate affairs, Graeme Trudgill, pointed to the spiralling cost of bodily injury claims. He said:"You can't argue against the numbers – it just doesn't add up."
In a rare good news story for AXA in this half of the year, Insurance Times revealed that the insurer is hiking the cost of travel insurance, while Cooper Gay chief executive Toby Esser revealed in an interview that he is putting off floating the company until at least 2012.
It was this month that flash flood waters engulfed Cornwall. Just as insurers had finished licking their wounds from the £174m insured losses in Cumbria, news came that the Cornish flood bill could rise to at least £10m.
December
Nothing lasts forever, even the UK's wet weather. Freezing temperatures settled over much of the UK in December, and insurers faced an upsurge in cold weather-related claims.
Just as cars slid off their chosen paths, so did Chartis Insurance, as it followed Advantage and HSBC Insurance by putting its private motor business into run-off.
Leeds-based Henderson Insurance Brokers announced it is close to completing two new deals, with a third on the 2011 horizon.
And one of the big running stories of 2010 reached a denouement with AXA's announcement that Towergate deputy chief executive Amanda Blanc was returning to the company to head its commercial operation.