Welsh seaside village is cheapest in Confused.com survey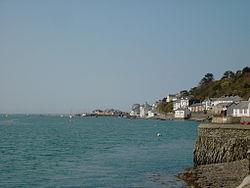 The Welsh seaside village of Aberdyfi has the lowest home insurance premiums in the UK, according to a survey by Confused.com.
The Gwynned village boasts an annual premium of £152 for an average-priced house, beating Milton Keynes and Barra in the Outer Hebrides, where premiums cost £153 and £155 respectively.
Fenchurch Street, in the City of London, has the highest home premium in the UK at £787 per year – around five times that of Aberdyfi. The capital is also the location of other top-priced areas.
Factors that influence insurance rates include crime levels, house prices and flood risk.
Nine out of the 10 cheapest home insurance areas are on the coast, the price comparison website said.