Rugby club to change stadium name to Allianz Park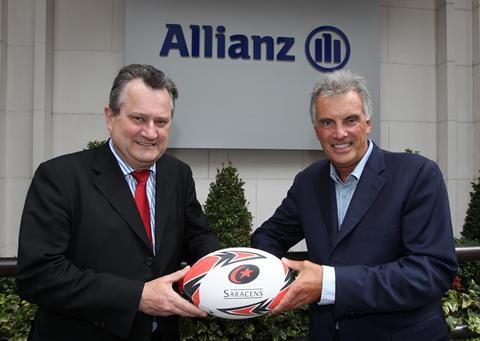 Allianz has entered a long-term sponsorship of Saracens rugby club.
The insurer will become the club's main sponsor, and Saracens' new home ground in Hendon, north London, will be renamed Allianz Park. It is currently called Copthall Stadium.
Allianz Group management boad member Clement Booth (pictured, left) said: "Saracens and Allianz are an excellent fit and I am excited about the potential the partnership brings for us both. For example, the club shares Allianz's strong corporate social responsibility ethos. The work Saracens does with the local community is particularly impressive."
Allianz Park joins a series of Allianz sponsored sporting venues, which include Allianz Park in the insurance group's home town of Munich, Germany, the Allianz Standium in Sydney, Australia and the Allianz Riviera stadium in Nice, France.
"I am convinced that this partnership of all major Allianz entities in the UK will certainly help to raise Allianz' profile and brand recognition in the UK," Booth said. "There is also a strong emotional aspect to being the naming rights partner of a sport stadium - for a non-tangible brand like Allianz, it quickly becomes the 'home of the brand' and a place of corporate pride for our employees."
Saracens chairman Nigel Wray (pictured, right) added: "We are delighted to welcome Allianz as a long-term partner not only because they are a company with an outstanding international reputation, but also because they are an organisation which shares our core values and principles.
"Over the past three years, the club has made outstanding progress in terms of team performance on the field, building a strong global profile and securing a home ground. We are now starting to realise our commercial potential. This deal represents a massive step forward for Saracens."