Initiatives aimed at inclusion and diversity are opening up opportunities in the insurance industry, and there are calls for changes to workforces that are more representative of customer base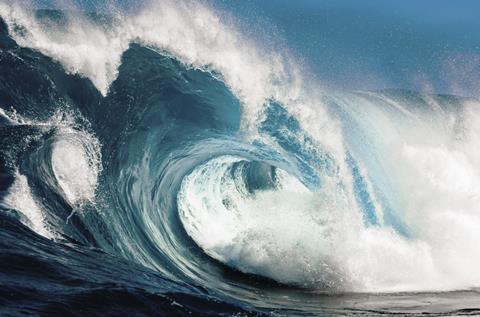 Disrupters come in all shapes and sizes. To most, they look like tech-based start-ups or blue sky thinking entrepreneurs. But some disrupters are more subtle than that. Some disrupt the market simply by changing how we work within it.
Insurance has long been dominated by the same type of person, but a new breed of disrupter is being born out of the ever-growing demand for diversity within the industry.
Initiatives such as Ambition First and Inclusion@Lloyd's are opening up opportunities to a fresh new body of talent, one that was previously closed to the industry, and many say that this can only help the market grow.
By promoting individuals of different races, genders, sexual orientations and cultures, these disrupters hope to revolutionise the industry.
Market must diversify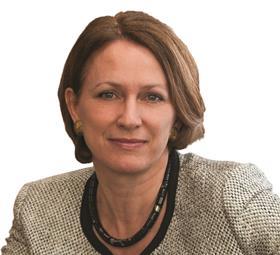 In December 2013, Inga Beale became the first female chief executive of Lloyd's in its 325-year history, and earlier this year became the first woman to head the top 100 LGBT executives list compiled by the Financial Times. She says that in order to grow talent the market has to diversify.
"If we are to remain relevant in a global market, [insurance] needs a diverse talent base," she says. "If we are to reach new customers, we need to speak their language, understand their culture and look like them.
"The bottom line is that being more diverse is good for business."
It is under Beale's watch that both Inclusion@Lloyd's and the Dive In Festival were set up.
Inclusion@Lloyd's is a collaboration between the Corporation of Lloyd's and the Lloyd's Market Association (LMA) which champions diversity throughout the market and aims to "attract and promote accelerated career path progression for high achievers of any gender, age and ethnicity".
The Dive In Festival, held earlier this year, was a four-day event hosted in Lloyd's and around the city featuring some of the biggest names in the industry in a bid to promote industry-wide inclusion irrespective of gender, race, sexual orientation and health.
And Beale believes that both events will help grow the UK market.
"The launch of Dive In festival will surely result in greater innovation and business flow from new markets," she said. "Diversity will allow us to attract the best talent from around the world."
Her words are echoed by Aon UK chief executive Dominic Christian, who chairs Inclusion@Lloyd's.
"We have learned this year that there is a real appetite for a more diverse and inclusive insurance sector, and we have to start to appreciate what it will take to make this a reality," says Christian.
And Lloyd's isn't the only area of the market pioneering these inclusive approaches to the workplace.
Meaningful change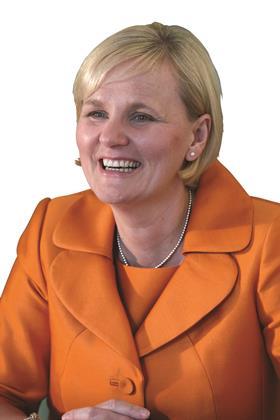 AXA UK and Ireland chief executive Amanda Blanc believes that innovation must start in the office, and has long championed the hiring of millennials into insurance.
"We can't get to the point of implementing meaningful change and innovation in our industry until we have real change in the way we work and recruit people," says Blanc.
For Blanc, innovation will be difficult until the industry opens its doors to a greater diversity of people with different ways of thinking and approaches.
"If you look around the industry, everyone pretty much looks the same," says Blanc. "We all have things that differentiate us but, if we are honest, we are all very similar in the way we look at life and the way we think.
"We reflect only a very narrow proportion of our customer base and if that continues we can forget about innovation. Innovation comes from diversity: be it age, race, gender or orientation."
Change is starting to happen in some areas. The industry is hiring more young people. The CII reports that in 2009, fewer than 50% of companies hired young people straight out of school. In 2014, however, 75% of firms recruited school leavers.
While the numbers around youth employment are encouraging, they are still worrying in gender diversity.
In a study conducted earlier this year by PwC, 64% of women in insurance said insurers weren't doing enough to encourage diversity, while 80% believed insurance firms talked about diversity but, ultimately, did not offer opportunities equally.
In a similar study, it was found that only 5.7% of employees in UK insurance were of ethnic origin, while less than 2% of board members are listed as non-white.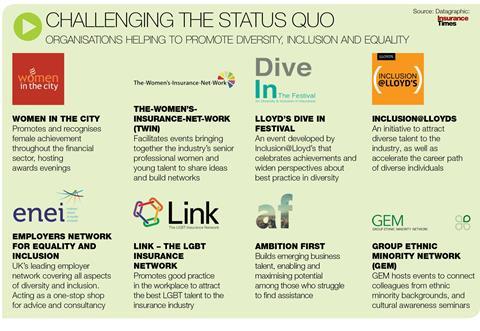 Click here for a larger version
Career support
There are grass roots movements that are trying to change this. Most notably, Ambition First. Led by co-founders Emma Bell and Phoebe Hugh, the initiative was set up to nurture and assist youthful, diverse talent in the insurance industry to help accelerate their career progression.
"There is a lot of discussion about creating a more diverse and inclusive workplace, yet the focus over the last few years has been at the senior management and board level," says Hugh, who, still in her 20s, runs Brolly, the 'insur-tech' start-up she co-founded earlier this year.
"It's crucial now to focus on the talent coming through. Our mission is to help anyone with ambition to make it a reality. The next generation of leaders need career support, and we are working towards a more equal workplace from the ground up."
For Hugh, the insurance industry has too long been dominated by the same type of person. Ambition First is trying to change insurance, and they are clearly not alone.
The face of insurance could look very different if these pioneers succeed, but until that time they face an uphill struggle.
As People Development Team chair and diversity lecturer Angela Peacock says, getting insurance to focus on diversity is like "getting turkeys to vote for Christmas".