Mitsui Sumitomo has turned its fortunes around, with its sights now set on a gold medal journey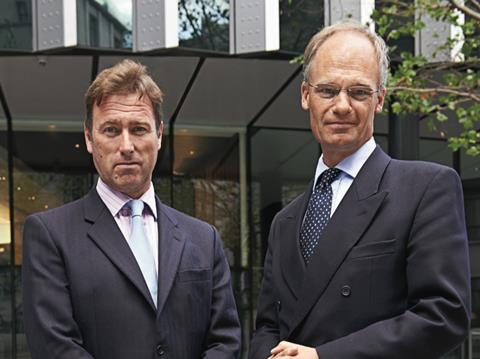 It's been a tough few years for Mitsui Sumitomo, but today the management are showing their confidence by agreeing to speak to Insurance Times.
Chief executive Andrew McKee and director of underwriting Martin Hudson (pictured above left and right, respectively) are polite when they greet us at their plush London offices, but there's little small talk. There's a lot to get through and they're keen not to waste time.
Mitsui Sumitomo Insurance is the UK arm of Japanese-based MS&AD Insurance Group, the seventh largest insurer in the world. The UK business writes £350m in premium income through its Lloyd's underwriting syndicate 3210 and six regional offices. It writes aviation, marine, and property and construction, but its casualty business has had the most troubles.
In 2010, Mitsui suffered an upsurge in financial crisis-related professional indemnity (PI) claims, which pushed its combined ratio to an eye-watering 219.5%. This poor underwriting result was a big factor behind the syndicate's £16.2m loss that year.
Then in 2011, Mitsui's £10m premium income book was hit badly by bodily injury claims, resulting in a 149.8% combined ratio for motor.
McKee realised in 2010 that drastic action was needed, so he brought in Eamon Brown in January of that year as underwriting director.
If we come out of the blocks like Usain Bolt then we are going to trip up, so we are running more of a Mo Farah-type race here"

Martin Hudson
Brown came with a big reputation; he was previously a senior manager at the Lloyd's franchise performance division, a unit credited with pulling Lloyd's back from the brink after it nearly collapsed in the late 1980s and early '90s owing to a raft of asbestos-related claims, large disasters and reinsurance contract failures.
When he came to Mitsui, Brown took some big and bold decisions. He slashed the professional indemnity book by two-thirds to just £10.2m premium income between 2010 and 2011. He also pulled the plug on the £10m gross written premium UK commercial motor book. These decisions, among others, helped swing the syndicate back into a profit of £13.2m in 2011.
McKee says: "Eamon did a good job for us. He basically came in really to start reprofiling the underwriting book and building all the rigour, discipline and control around the underwriting."
By the time Brown's contract ended in November last year, Mitsui was in a much better place.
"The significant remedial action is behind us in terms of significant culling and repositioning of our lines of business - that period of rebuilding is complete," says McKee. "We have shifted our perspective more to diversification and growing the top line in a responsible way.
"We are happy with the results coming through, which clearly show the medicine that we took was the right medicine."
Moving forward
McKee says he's confident about Mitsui's future and is excited to be growing the company's operations in the regions, where it is a mid-
market player.
The UK is renowned for being a very competitive marketplace, one in which price frequently wins the day when it comes to obtaining business. But Hudson says Mitsui's gameplan does not revolve around a race to the bottom.
"We are not trying to buy market share by underpricing," he says. "What we are trying to do is offer a very attractive product to a clearly definable group of customers at a proper price."
The insurer has also invested in people. It hired a new property owners' team at the end of last year.
QBE's former head of commercial business Graeme Rayner was poached in June last year to head up property and casualty underwriting, while Chubb Ireland's former manager Alan Sheil was given the role of Mitsui's managing director of Ireland. Sheil played a key role in opening the company's Dublin office in May.
Mitsui seems to be following a similar path to other insurers that have strengthened their regional presence to get closer to brokers. "What we have changed is having guys resident locally in terms of regional markets presence," McKee says.
Experience for the long term
Prior to joining Mitsui, McKee held an 18-year stint at Chubb, where he rose to become London branch manager. He replaced Mitsui's former chief executive Allan Guest in the top role in 2009.
Hudson also has an impressive CV: he was previously chief executive of St Paul Insurance Company in 1998. The business eventually merged with Travelers in 2002.
Before joining Mitsui, Hudson was a consultant to London market insurance firms. This experience should stand him in good stead as he leads the charge for growth abroad.
While the UK and Europe represents 47% of Mitsui's business, Australia, Canada and the Nordic regions will continue to be big growth markets. Mitsui has no direct exposure in its portfolio to eurozone sovereign debt.
McKee sums up Mitsui's strategy as very much a long-term game plan.
"We are not looking to take a big chunk of market share very quickly - it is a long-term play for us," he says. "Our aspiration is to have a much bigger footprint in the UK."
Hudson says: "If we come out of the blocks like Usain Bolt then we are going to trip up, so we are running more of a Mo Farah-type race here."
If Hudson and McKee are running a Mo Farah style of race, they are still only half-way through it.
Some good progress has been made, but it's clearly going to be some time before McKee and Hudson can put their hands on their heads in a Mo Farah-type celebration.
Mitsui Sumitomo's three challenges:
● Continuing to diversify and grow the top line of the business
● Increasing market share in the UK regions
● Building on the momentum of the turnaround of its Lloyd's business.