Giles's boss talks changing jobs, changing minds and changing markets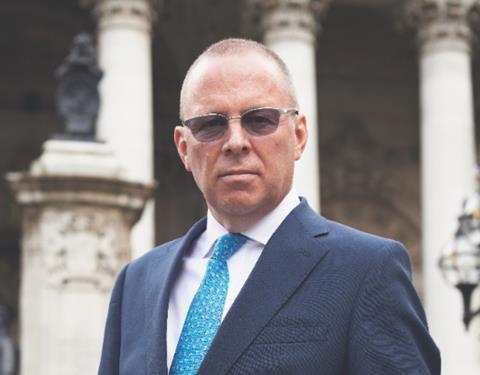 Seen Brendan McManus lately? You can hardly have missed him. The former Willis boss, now chief executive of Giles, has the highest profile in the market at the moment - and this morning, he's bristling with energy as he welcomes Insurance Times to his new City office.
It's 9am, but that's practically lunchtime for McManus, an early riser who reckons he's got to the top through hard graft. He's already been smiling for the photographer for a very accommodating 40 minutes. In fact, McManus is being accommodating all round at the moment, as he strives to shine up the rather tarnished Giles brand, and take the lead in the race among the consolidators.
It's a tall order. While the consolidators have been used to bad headlines, Giles has had it harder than most, with former chief executive, now chairman, Chris Giles not always playing well with the press to put it mildly. There have been persistent whispers of rows with insurers too, and a number of high-profile staff departures. The financials reflect the tough climate, with the broker posting a £37.4m loss in 2011 - although its preferred measure, EBITDA, was up 15% to £24m.
McManus is determined to put difficult relationships behind the company, bringing his considerable connections and reputation to bear, and never letting the smile become strained. He admits there's work to do on the brand, but says: "We don't need to change the name above the door. In the past, we have given the impression of being quite a tough place to work; it's not always been the best recruitment brand. We would like to change that - we think we have got a really exciting story."
And they have - but first, let's go back a bit. McManus came onto the job market in December after a shock departure from Willis, where he was UK chief executive, reporting into the notoriously feisty group boss Joe Plumeri. McManus refuses to discuss his departure from Willis, but is full of praise for the global broker. "It was an amazing experience, and I will always be grateful," he says. "I learnt many things from Joe."
Having spent decades in RSA's commercial broker business before crossing the fence to broking, McManus was a rare and valuable commodity when he came on to the job market, and it did not take long for the phone to start ringing. "I was not planning a career move at the time, but I was lucky there were a number of opportunities for me to explore," he says wryly.
What almost no one expected was that he would end up at Giles. The broker, backed by private equity group Charterhouse, was virtually synonymous with Chris Giles himself - although admittedly, he had avoided the limelight of late. McManus says it was Chris who first approached him, though his discussions with Charterhouse were also "really important" to his decision.
Inevitably, eyebrows were raised when McManus's appointment and Chris Giles's change of role were announced. Two of the market's biggest chief execs, both tough guys not known for mincing their words? "Where can we buy tickets?" was the first question most people asked, swiftly followed by: "How long is that going to last?"
"People all thought there were going to be fireworks," McManus acknowledges, deadpan. "Not so far. We both have strong opinions and personalities, but we're both motivated by the same thing, which is to be a successful company." But he concedes: "Giles multiplied by McManus is quite a lot to take, so we have to be conscious of that."
Any soldier can tell you that no plan lasts 30 seconds in engagement in battle"

Brendan McManus, Giles
The story is that McManus is running the show on a daily basis while Giles looks out for new opportunities. In practice, McManus admits, it isn't always that clear-cut. "Any soldier can tell you that no plan lasts 30 seconds in engagement in battle," he says - an interesting choice of military metaphor. "The fact is, we cross over quite a lot, we talk all the time, we spend a lot of time together and we are both comfortable with each other." Firm but polite, he bats away any suggestion of Giles scaling down either his involvement or his investment in the company.
Like his former boss Plumeri, McManus is a man who clearly gives everything to his job, and is clearly energised by the scale of the opportunity. He's already made a couple of high-profile hires, and secured a flurry of positive headlines that, six months ago, Giles could only have dreamt of. Now is the time to capitalise on all this goodwill.
McManus has already scotched talk of a flotation - he and his management team are committed to the business in the long term, he says, and he's talking 10-year plans. "It's not high-falutin'," he says. "The plan is to build a great retail and wholesale UK broker, based on organic growth. We will still acquire when the right business comes up, though we are more likely to acquire businesses that bring a specialism than for any other reason." Giles is known to have bid recently for the Groupama broker businesses. McManus won't comment, but outside bidders are now thought to be out of the running, with MBOs looking the most likely option.
Some insurers look at Giles as a small Scottish broker, or consolidator, or MGA, that burns them. It's up to us to change people's minds"

Brendan McManus, Giles
Building the business means working well with insurers, another area where Giles has reputedly had some difficulties. McManus's underwriting background will come in handy here, and he says that the business has begun to aggregate its underwriting data over the past five years, to demonstrate the value it has provided in terms of ROI. "Some insurers look at Giles as a small Scottish broker, or consolidator, or MGA, that burns them. It's up to us to change people's minds. We have got to give them the convincing data: we are not the broker that burns."
And the big question: is Giles looking to consolidate the consolidators? McManus smiles. "I think Oval is a great business and Phillip Hodson is one of may favourite people," he says. "I love spending time with him." How nice. So, has he been spending a lot of time with Hodson recently? McManus laughs. "I think it's absolutely possible that in the next 12-24 months, the consolidators will consolidate. But our plan is not predicated on that, and we are not sat here twiddling our thumbs without that happening."
One thing's for certain: in the race of the consolidators, you'd be a fool to bet against him.
Snapshot: The man
Born: 1959
Hometown: Sheffield
First job: Production line operator for well-known canned pea manufacturer
Family: Married, three children
Interests: Family, sport, DIY, old cars and vegetable gardening
In his own words: 'Any soldier can tell you that no plan lasts 30 seconds in engagement in battle'
The company
UK offices: 35
Employees: 12,000
Market view: McManus is one of the market's established big hitters - well known and well liked, he's no pushover. Expectations are high and the scrutiny will be close.