Mark Cloutier predicts more consolidation to tackle the industry's 'enormous capital inefficiency'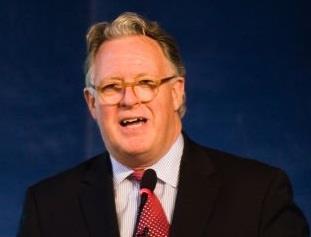 Brit chief executive Mark Cloutier has insisted that the pending takeover by Fairfax and the appointment of a new deputy chief executive do not mean he is leaving the Lloyd's insurer.
Brit announced this morning that it had promoted Matthew Wilson, who has been with the company since 2008, to deputy chief executive.
Speaking to journalists following the release of Brit's full-year results this morning, Cloutier said: "You shouldn't read into it that the Fairfax transaction and this announcement [of Wilson's promotion] signals my exit.
"I am very excited about the business becoming part of Fairfax and working with the Fairfax team and [chief executive] Prem Watsa. I am looking forward to a long and prosperous future being part of the team."
On appointing Wilson as his deputy he said: "We have had a great partnership and I think that partnership will continue for some time to come."
Since Fairfax's £1.22bn offer for Brit was announced, the market has been abuzz with talk about who will be taken over next. Cloutier said that the market would "definitely" see more consolidation in the next 12-18 months.
He believes the urge to merge will be driven by the industry's inefficient use of capital.
He said: "Everybody talks about the cost of capital and lower cost forms of capital coming into the business. There is a more challenging fundamental issue with the sector right now and that is an enormous capital inefficiency.
"Consolidation will serve to bring some efficiency back if the businesses that come together actually take advantage of added capital efficiencies through diversification and scale and release capital back to investors."
But he added that some future deals would be driven by "good old herd mentality, where a couple of people start getting together and everybody starts to think they need to as well."
Join the debate in our new LinkedIn specialist discussion forums