The industry needs to change the way it recruits, Insurance Times's careers roundtable audience heard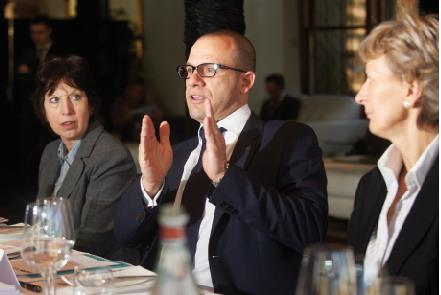 The insurance industry is set in its ways, and a broader approach to recruitment is required if companies want to find and retain top talent, an Insurance Times careers roundtable audience was told last week.
Flexibility and diversity in sourcing new recruits emerged as the key issues for human resources bosses in insurance. While there are still plenty of applicants for jobs, people with relevant experience and understanding of working values in the industry are thin on the ground.
Thomson Heath & Bond's group HR business partner, Penny Hathaway, said: "We have to be a lot more open-minded about where we are recruiting people from. We're relying more on staff knowledge and networks, and we're really pushing our refer-a-friend scheme."
Different industries
An increasingly accepted means of finding new talent is to look outside insurance and towards related industries. Recruitment firms Hays director Lloyd Rosenthal said: "There's a great opportunity for bringing in people from different industries. What you're really bringing in is their network."
Skills shortages remain an obstacle. Technological advances mean that senior staff are almost always contactable, with fewer opportunities for junior staff to broaden their skills by covering for senior colleagues.
Crispin Spears HR manager Jan Homewood said: "There seem to be quite a few candidates on the market, but not many with the experience that we want. All the candidates that we're seeing have had lots of jobs; too many jobs. As an employer you look for stability. We're finding that there is just not the right calibre of people."
Cultural understanding
Finding applicants with the cultural understanding of the industry that will enable them to fit into the workplace is also a challenge.
Chartis HR manager Natalie Henstock said that strong applications don't necessarily result in good hires. "We can find people who, on paper, are technically skilled and can do the job, but when you meet them you know that they will not fit in with the organisation and have not got that breadth of experience in certain sectors. While we want to attract diversity, we require London market experience. It's a tricky balance."
She added: "The industry is quite process-oriented and naturally quite governed. Recruits from outside the industry find that quite an adaptation, and often need a lot of management intervention to get them to a place where they can recognise that they're doing a good job."
Soundbites
The cost of attraction
"The industry does need to look at how to remunerate, because if you want to be attracting talent you need to start thinking a bit differently. There are some fantastic candidates that are disillusioned with financial markets and they have a different approach to managing risk, because their risk has an intrinsic value of real loss at that moment. Candidates want to move into the insurance market because they see that as a very interesting area to play in."
Lloyd Rosenthal, director, Hays
Home working affects the team
"When you have a massive home-working population and a lot of staff with core roles and functional roles working from home, the knock-on effect is that you never get any interaction as a team, and there is a real lack of sharing knowledge. You have to find another way to make it work; social networking and instant messaging can only overcome some of those barriers.
Natalie Henstock, HR manager, Chartis

The Olympic effect
"Looking at the Olympics timetable, it's not just going to be getting in that's difficult. Even getting home is going to be an issue, as there are events on all through the day. It looks like we really will be working from home, if the internet is still working."
Penny Hathaway, group HR business partner, Thomson Heath & Bond

Keynotes
Crispin Spears HR manager Jan Homewood prompted debate over the prospect that extensive travel disruption in London during the Olympic Games this summer may be the catalyst for re-evaluation of strongly rooted attitudes towards rigid working hours.
"The first time it was agreed that I could work one day at home, I took a pile of work home thinking I'd never get through it all, but I cleared it. There are none of the interruptions at home."
Homewood asked whether flexible working hours and time spent working from home over the summer could benefit the industry in the long term, particularly in terms of attracting talent from industries that usually offer staff more freedom.
Lloyd Rosenthal, director at recruitment firm Hays, explained some of the challenges for HR bosses in the insurance industry. In addition to embracing candidates from a breadth
of different backgrounds, he added that changing perceptions of the industry had been a fundamental part of getting more graduates
to apply for insurance roles.
He said: "I think it's about getting rid of the image of the grey suit. People think either that it's quite boring, or that you're in a call centre out in the sticks somewhere. And it's not. Some of the projects out there are attracting really good talent." In relation to the disruption the Olympic Games may cause, Rosenthal said: "Telecommunications are going to be the biggest problem."
Chartis HR manager Natalie Henstock offered insight into the forces driving candidates' applications, noting that besides attractive remuneration packages, companies have to offer good professional development prospects to make themselves more appealing to candidates.
"We often see that candidates are interested in the development opportunities that we're offering and what their progression will be within the business; particularly within a company the size of Chartis.
"A lot of people want to join us because of the international opportunities. It's a good sell in the right context, for people who do want that international exposure. There's an element of financial balanced against an element of flexibility. That's the angle we have found is best for attracting people."