DAS managing director James Henderson says research by the insurer raises concerns policies may be mis-sold in the future
A misunderstanding of consumer cyber policies could lead to the future mis-selling of products by brokers.
This is the warning from DAS managing director James Henderson, after the legal expenses insurer carried out research into new cyber policies entering the market.
The research, done in conjunction with HSB, found there was a lot of "unalignment" between how consumers, SMEs and brokers understood what cyber policies were and what they covered.
Henderson said the consumer market was a particular worry, and that DAS would be trialling dropping the word 'cyber' from their consumer product later in the year because it suggests too large an umbrella of coverage.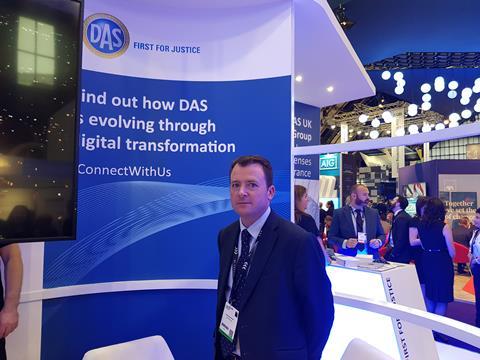 Henderson said: "People have a general awareness of cyber, but when you probe beneath that what that actually means to an individual they describe different things.
"Brokers are telling us from the research they are very interested in cyber and see the need for it. But they're also very candid with us around the lack of knowledge that they have.
"I think you can break that down, so that knowledge reflects some of the market development. They've got higher awareness on the SME cyber needs, but on consumer cyber needs it's low.
"That's a worry because if brokers are telling us that their knowledge is low, but the demand is high and sales are increasing, that's not a happy mix."
Consumer behaviour
A key concern in the mis-selling of consumer policies was also driven by a lack of consideration of current mass-market behaviour.
Henderson said: "One of the biggest findings we found was that the majority of people do not take basic precautions when they are looking at their own cyber security. That's important because if you look at the majority of cyber policies on the market right now they have exclusions around for example failing to update virus software.
"So what we are worried about is if you've identified a consumer behaviour they are not doing, and then they are being sold products that require them to do that. It's an accident waiting to happen."
The research was conducted by DAS to inform product design, but Henderson said the findings were so significant he felt compelled to share them more widely with the industry to avert the danger of policy mis-selling in the future.
Hiscox already holds broker briefings to improve cyber product understanding, and Henderson said he hoped more insurers followed this lead.
He added: "It's too early to say that mis-selling is taking place and there is currently no evidence for that happening.
"But I think there is evidence to be concerned about that risk in the future and our survey calls that out really clearly that that mis-match of understanding behaviour and knowledge - unless we can address that quickly - it really is an accident waiting to happen."
Subscribers read more