Willis UK's new chief executive has one main mission – growth. Can this born salesman bring the market leader back to its previous form?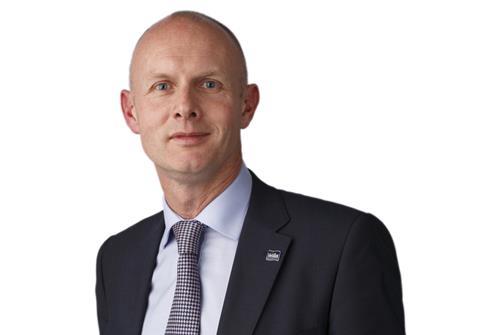 "I look forward to meeting you on Monday. Any biscuit preference?" So emails newly crowned Willis UK chief executive Dan Wilkinson before his first press interview. Pretty smooth, huh? That's Wilkinson all over – but with a company in the news for all the wrong reasons, a stagnant economy, and some very big boots to fill, will it be enough?
Wilkinson's big break came in October, when Willis's UK boss, big beast Brendan McManus, made a sudden departure, announced in a terse press release. In stark contrast to McManus, who made his name as RSA's broker boss before jumping the fence, Wilkinson was relatively unknown.
Willis had a torrid 2011, with McManus's departure and that of international boss David Margrett hot on the heels of a record fine from the FSA for failing to have proper anti-bribery and corruption controls in place. Weeks later came another surprising exit, that of McManus's former boss Graham Millwater.
No comment
Wilkinson may be new to press interviews but he's had his training, demonstrated by several polite but firm refusals to be drawn on McManus's departure. "Brendan had four years, which in chief executive terms is a lifetime" is all he will say.
So we shall be forced to speculate. Group chief executive Joe Plumeri pulls the strings at Willis, and departures and promotions alike are within his gift. The exits have been cloaked in silence, no doubt subject to lucrative non-disclosure agreements, but it is thought unlikely that either McManus or Margrett's departures were directly linked to the FSA fine.
Willis fared the worst out of the mega brokers, with overall income down 6.7% in the third quarter of 2011, contributed to by an unspecified drop in UK commissions. It seems the business simply wasn't growing fast enough for Plumeri's liking, and he decided it was time to shake things up – a hypothesis backed up by Millwater's subsequent departure.
The big sell
Wilkinson says: "[Plumeri] is very simple in what he wants and very clear: growth." And Wilkinson is the man to deliver. He may lack the gravitas of McManus or the grey hairs of Margrett, but busting sales targets is what he does best. He takes time out from the interview to pitch for business from Insurance Times's parent company – a cheesy trick perhaps, but one that nevertheless illustrates his approach.
There's no false modesty here either: "For the four years Brendan was here, my business was by any measure the outstanding performer," he says.
That business, based in Birmingham, consisted of Willis's corporate and mid-market heartlands – about 40% of the total UK business, Wilkinson reckons. In the new role, he will have to get to grips with major accounts, specialties and the Willis Commercial Network, but insurer sources are complimentary, both of Wilkinson and his team.
"His whole ethos is about sales and containing costs, which is where Willis needs to go," one insurer says. "He's five minutes into the job, his predecessor was a big name, there's a very tall financial benchmark, and the expectations in that organisation are very high. We are willing to do everything we can to support him."
There's no doubt that it's a big step up for Wilkinson, particularly in terms of profile, both externally, especially with the broker's largest clients, and internally. "Suddenly Insurance Times wants to talk to you," he muses. "You used to talk to Joe once a quarter, now it's three times a week …"
Keeping it in the family
No surprise here, but Wilkinson is a passionate advocate of internal promotions. He has strong words on the subject, which may shed an interesting light on his views of McManus's appointment and tenure. He says: "Over the next three years, I would like 80% of the promotions we do to be people within the business. Our success rate of bringing leadership through the system versus hiring in leadership is night and day.
"People need to come here and know that they've got a future, as opposed to thinking they will have someone promoted above them who's been shipped in from somewhere else because they've been in Insurance Times every week."
Ouch – and there's more to come. Speaking of the team raids that currently characterise the broking market, Wilkinson says: "Organisations haven't spent enough time developing their talent, and it always seems a safer leadership choice to go out and hire a big name.
"It would be an interesting exercise to track all the big names that move around in the market and all the noise they make when they go somewhere, against what's the average tenure and track record."
The five-step fight
That's fighting talk. Just a couple of months into post, and Wilkinson already has a five-step plan. Number one is making Willis a "great place to work". Money talks, so this includes an overhaul of the bonus structure.
Number two is putting clients first: "loving our clients to death". Number three is building a sales and marketing machine. Building one? "Yeah – we have not been aggressive enough in terms of getting on the front foot. You will see much more of UK retail in the press this year, doing things, going places, hiring, acquiring."
You'll like number four: it's "reconnecting wookey". Spelt WUKI, apparently – Willis UK and Ireland. "It's an unfortunate name," admits Wilkinson, as Insurance Times chokes on the choc-chip cookies. "It's structuring the UK business in such a way that the top leadership have as much emotional engagement with everything that the UK business does as with their own little silo."
Finally, it's about insight – and Willis has a couple of tricks up its sleeve. As revealed by Insurance Times last year, there are plans afoot to launch its answer to Aon's Grip, called WILLPlace, in 2012. Together with Sales 2.0, a diagnostic tool specifically for mid-market clients, it should furnish the broker with best-in-class risk assessment and placement. "The combination of these two tools in terms of marketing for us next year should be huge," Wilkinson says.
The big picture
There have been a few rows between Aon and its carriers over Grip, and Wilkinson is vague on how Willis's alternative will be monetised. But let's not get bogged down in the details. The Willis mission for 2012 is crystal clear: growth. And the company motto characterises its new chief exec to a tee: 'Bring it on'.