Consumers are still wary of emerging tech and sharing data with insurers, new research by Populus shows
Customers are still nervous about sharing data, with almost half (48%) believing that having a telematics black box installed in their car would lead to higher premiums.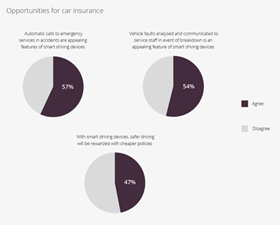 Graphic credit: www.populus.co.uk
Research conducted by Populus on consumer attitudes to insurtech and data sharing, has revealed that consumers are still wary of trusting insurers with their driving data.
Less than half of those surveyed (47%) believed that insurers would reward them with lower premiums if they were shown to be a good driver.
However, there were some positives for telematics insurers.
More than half (57%) saw automatic calls to emergency services following a crash was a good feature of smart driving devices.
Automatic breakdown callouts were also seen as a pro by consumers, with slightly over half (54%) rating this as a positive feature.
Data and trust issues go beyond black boxes
Consumer trust concerns over data do not end with telematics, according to the research.
Customers were shown to be less than convinced by trusting connected home devices where it came to their financial information, with more than half (54%) saying they did not.
However, a third (33%) still felt that smart home devices were appealing because of their connectivity with other devices in the home.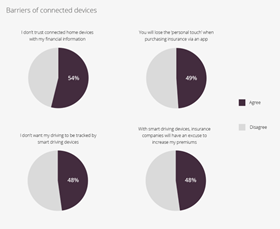 Graphic credit: www.populus.co.uk
"Insurance is seeing a rise in technologies that can streamline and simplify every process, from setting up policies to processing claims. However, this technology needs to be embraced by consumers in order to fulfil its potential and tackle issues like low consumer engagement," says Populus's Business and Consumer Insight division managing director Gary Muncaster.
The over 65 age bracket was most likely to distrust emerging technology, while people based in rural areas were also sceptical of its benefits.
"Our research has shown that there's significant groundwork to be done in order to establish the trust needed for customers to get on board with new technology," Muncaster continues.
Value exchange is the way forward
Populus suggests that the way to build trust with consumers is to create a value exchange.
Muncaster says: "Transparency is at the heart of developing trust, and if insurers want to develop a long-term relationship that benefits both them and their customers, getting the foundations right is crucial."
This is something that other sectors, such as retail, banking, internet and media, have already seen success in.
For example, banks have convinced customers to share data by offering everyday rewards.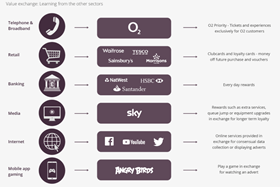 Graphic credit: www.populus.co.uk
Youtube, Facebook and Twitter offer online services in return for consensual data.
The retail sector has been collecting data for using reward club card schemes for decades; Tesco's Clubcard will be 23 years old in February.
"People are definitely happy for companies to collect their data if they understand what they're going to do with that data," explains Chris Gledhill, Co-founder and CEO of FinTech startup Secco.
Next Big Thing founder Will Higham agrees: "I think generally there's a greater feeling of understanding with the consumer that personal data can be useful to brands and not always sinister. It can be mutually beneficial."
However, insurers must be fully transparent about how data is being used, or they risk damaging relationships with customers even more.