Ten years on, administrators warn ex-staff to expect just 10%-16% of payouts
A month before the 10th anniversary marking the fall of Independent Insurance, the feud still drags on over final payouts for former staff.
Former employees are likely to receive only between 10% and 16% of their final payout for severance packages, holiday pay and outstanding claims, it emerged last week following an update from administrators PricewaterhouseCoopers.
There were hopes that the 337 former staff who worked at Independent's Cheadle office might be treated differently after a Manchester Employment Tribunal ruled in February that their claims should be protected, which would have meant a larger final payout.
But last month the Employment Appeals Tribunal overturned the ruling, meaning the Cheadle staff will join the rest of the former employees in only receiving a fraction of their claims.
The news came around the same time as former chief executive Michael Bright, who received a seven-year prison sentence in 2007 for his part in the fraud that triggered Independent's collapse, was released from prison.
PwC has told former staff that the final sum received will depend on how much is left over after long-tail claims, especially employers' liability, are paid off out of the pot of money put together from Independent's remaining assets.
Staff will have to wait anywhere from six to 18 months to receive the settlement. The likely decision to award just 10%-16% has received a mixed reception from staff.
One source said that Independent staff may be aggrieved to discover that the staff at the French subsidiary, which represented around 5% of premium income, received a full settlement of their claims.
The source said it was a "real kick in the teeth" for his colleagues to receive only a fraction of their claims.
However, one member of staff, who did not want to be named, said that after a decade he had given up hope of receiving anything.
"If there is any money in the coffers after PwC and the protected creditors have been paid, it would be an unexpected bonus to receive something," he said.
"At the time of its collapse, it was one of the most horrendous experiences you can imagine, but you just have to move on and the world changes."
PwC has set aside £355m of Independent's remaining assets in total to pay for the non-protected claims. There are still 907 outstanding non-protected claims and £222m in reserve to pay for them.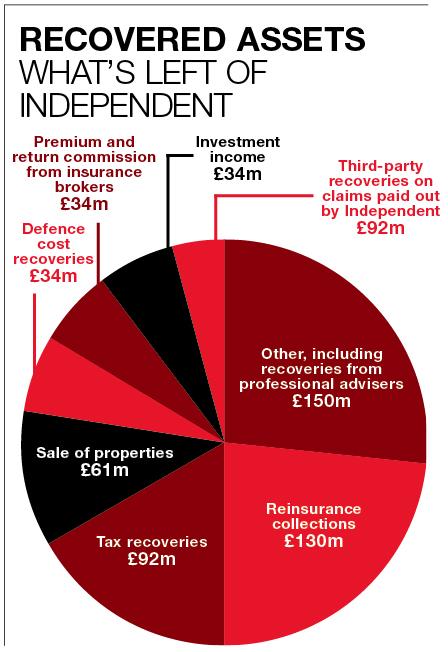 The collapse of Independent Insurance has proved costly for the Financial Services Compensation Scheme (FSCS), the government-backed fund of last resort for claims.So far, the FSCS has paid out £384m in protected claims to creditors.
Independent fell into provisional liquidation on 18 June 2001. After an investigation by the Serious Fraud Office, directors were eventually found to have withheld claims data from its actuaries.
Philip Condon, the company's former deputy managing director, was jailed for three years and Dennis Lomas, the former finance director, was jailed for four years, both for conspiracy to defraud by "dishonestly witholding claims data".
Bright, Condon and Lomas were ordered to pay more than £3m in a confiscation order. Condon was ordered to pay £1,280,896, Bright £1,258,467 and Lomas £470,113.
Independent was one of the biggest corporate collapses ever seen in the UK at the time, in which 1,000 staff lost their jobs and employees with savings invested in the company share scheme lost everything.
At its peak, Independent was the ninth-largest insurer in the UK with household name clients including Pizza Express, the Oval cricket ground, Somerfield supermarkets and the McLaren Formula One racing team.