Regulator reworks practice guidelines as many failed to react fully to Bribery Act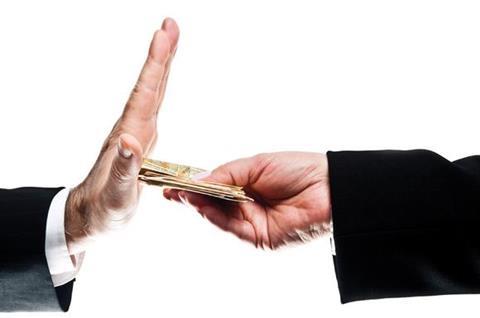 Insurance experts have expressed concern following an FSA investigation into bribery and corruption in 15 investment banks that has led to changes to guidelines for the entire UK financial sector.
Compliance consultancy Branko managing director Branko Bjelobaba said: "What surprises me about the 15 is that it is the big firms who have got money to spend on compliance. This does not bode well for small general insurers."
The FSA has strongly defended its actions, saying that the guidelines "will be as relevant for insurance as it is for investment and retail banks".
"We expect all firms to follow the crime guide that we issued at the end of last year," an FSA spokesman said. "Following the review into investment banks, we have updated that guide with examples of poor practice."
We don't have transparency in the UK where you have to declare to your client how much you are making in placing that insurance unless the client asks. There are things that could be going on that we don't know about'

Branko Bjelobaba, Branko
The investigation, which was began following the implementation of the Bribery Act in July 2011, found inadequate systems and controls in place at many of the firms. A source close to the investigation told Insurance Times: "We found evidence of little attention being paid to anti-bribery and corruption. And in some cases, only rudimentary systems and controls post-Bribery Act. More needs to be done."
Record fines
The investigation into the banking sector follows a similar investigation by the FSA into insurance brokers, which saw record fines handed down to two of the Big Three.
In July 2011, Willis Ltd, the UK legal entity of Willis Group, was fined £6.895m for failings in its anti-bribery and corruption systems and controls. The regulator said the failings created an unacceptable risk that payments made by Willis to overseas third parties could be used for corrupt purposes.
The fine, the largest imposed by the FSA in relation to financial crime systems and controls to date, followed a similar fine handed down to Aon in January 2009. Aon was hit with a £5.25m fine for similar failings.
The FSA said that there will continue to be a strong focus on bribery and corruption in the UK financial sector and did not rule out another intensive investigation focusing on the insurance industry.
Bjelobaba said the issue needs to be revisited. "We don't have transparency in the UK where you have to declare to your client how much you are making in placing that insurance unless the client asks. There are things that could be going on that we don't know about."
Commission
"It is more fundamental in terms of the levels of commission being offered for effectively producing the same types of cover. Brokers are predisposed to making as much money as they can, and some will enter into relationships where the commission is that much greater. We're not stupid and why not? But is the commission far too much for the effort you've expended?"
Meanwhile, the FSA has released its complaints data for H2 2011, which shows a rise in the number of complaints against UK insurance. Direct Line Group managing director of sales, service and partnerships Darrell Evans said: "The increase in UKI complaints is due to a change we made to our underwriting entities last year, rather than any rise in the overall number of complaints we received.
"Previously we had four separate entities covering Direct Line, Churchill, UKI and NIG. These have been amalgamated to form a single legal entity - UK Insurance Ltd (UKI). The complaints figures for all brands are now recorded under this underwriting entity."
Pass notes: Bribery
Is a follow-up bribery investigation needed?
Thorough investigation of the industry is necessary after the implementation of the Bribery Act on 1 July 2011. More thematic work on general insurance brokers would be extremely useful on its own, but any investigation will also helpfully prompt brokers to clean their own houses.
How is the corporate offence committed?
Under section 7 of the Act, a commercial organisation will be guilty of this corporate offence if a person associated with the organisation bribes another person with the intention of obtaining or retaining business, or an advantage in the conduct of business for that organisation. The offence is one of strict liability and does not require a show of intent.
Are gifts and corporate hospitality permissible?
Advice from law firm Clifford Chance states that all companies should have in place a specific policy governing gifts and corporate hospitality. The firm also says: "The guidance clarifies that bona fide hospitality and promotional, or other business expenditure that seeks to improve the image of a commercial organisation, better to present products and services, or establish good relations, is recognised as part of doing business and that it is not the intention of the Act to criminalise such behaviour."