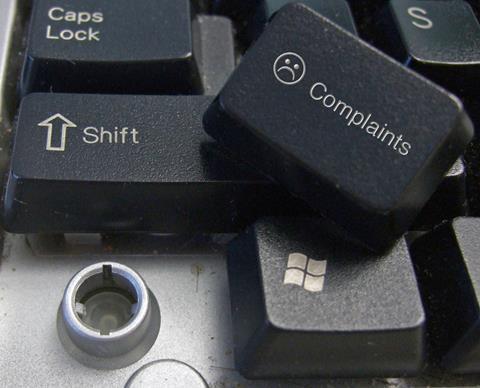 New complaints to the Financial Ombudsman Service (FOS) about general insurance products, excluding PPI, rose by 4% to 31,284 in the 12 months to 31 March 2016, compared with the 30,080 it received in 2014.
According to the FOS annual review released today, of the complaints about general insurance products, pet insurance and livestock was the biggest riser.
The FOS received 1,089 complaints about pet and livestock in 2016, up 38% from 790 in 2015.
Other big risers included specialist insurance, motor and mobile phone insurance.
The number of complaints about specialist insurance grew by 37% to 553.
Queries about motor insurance rose by 17% to 8,585, while complaints about mobile phone insurance also rose by 10% to 589.
Complaints about commercial vehicles and property also grew by 5% to 1,215.
One of the general insurance products that saw the biggest drop in complaints was card protection insurance.
The number of complaints the FOS received about card protection insurance in 2016 fell by 52% to 666 from 1,401 the previous year.
Other big fallers were extended warranty insurance and buildings insurance.
Complaints about extended warranty insurance fell by 20% to 934 while queries about buildings insurance fell by 9%.
The FOS said the primary issue was the quality of communication between insurers and their customers; how an insurer sold a policy, how they administered it, or how they dealt with a claim.
Generally, the root of the problem was communication at the time the policy was sold – in particular, how the policy terms and conditions were explained and understood.
The FOS said: "In some areas of insurance, disputes over what is and isn't covered can cause significant distress.
"From our experience, better communication – not only during the claims process, but when someone's first choosing a policy – could prevent much of this disappointment and upset."
But in defence of insurers the FOS said that firms continued to tell them that customers had not disclosed or had "misrepresented" important information, which suggested some of the claims were fraudulent.
However, the FOS found that insurers did not ask clear questions.
"So it wasn't surprising their customers hadn't given accurate answers. Where an intermediary was involved, we sometimes identified problems with how information had been passed to the insurer.
"A large proportion of complaints about insurance involved claims that insurers had already accepted.
"Unfortunately, customer service issues – including poor communication – had made the settlement process unnecessarily stressful. Problems seemed particularly prone to arise when one or more third parties were involved – such as loss adjusters and contractors."