Crane shrouded in mist hit by helicopter, two confirmed dead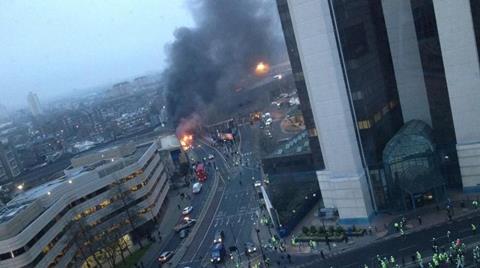 A helicopter has crashed in south London killing two people after hitting the top of a building crane that caused it to spiral out of control.
The Metropolitan Police has confirmed the two fatalities at the scene of the accident, which occurred during this morning's rush hour.
The helicopter is believed to have hit the crane at 8am. Early reports suggested that the crane, which was being used to finish construction work to the St George Wharf tower, billed as one of Europe's tallest residential developments, was shrouded in mist and fog and may not have been visible to the pilot.
About 60 fire fighters are attending the scene near Wandsworth road in Vauxhall.
Reports suggested the helicopter was carrying just the pilot, who the London Fire Brigade confirmed was killed in the crash.
Four people, one of them critically ill, were taken to hospital, while five others were treated at the scene.
Fire fighters are also in attendance at the crane, which is reported to be in a precarious position. Eye witness reports suggested the crane was lying across the adjacent Nine Elms road.
After colliding with the crane, the helicopter crashed into the road with witnesses saying it crashed into two cars, both of which have been abandoned.