Insurer teamed up with global risk consultancy Control Risks and lawyers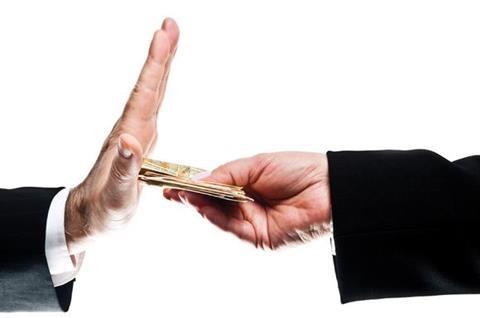 Specialist insurer Hiscox has launched the first product that combines anti-bribery response, defence and expense insurance for UK businesses.
Provided in conjunction with global risk consultancy Control Risks and a panel of law firms, its Bribery Act Response Insurance is designed to cover the costs and practical steps required to investigate and defend an actual or suspected Bribery Act offence.
The Bribery Act 2010 created a new corporate offence for businesses of "failure to prevent" an act of bribery. Under the act, the Serious Fraud Office is increasing the number of businesses it investigates as it moves towards a zero-tolerance policy.
As well as providing insurance for the costs of conducting an investigation, the insurance includes pre-incident crisis planning and access to a defence and investigation team.
Hiscox casualty underwriter Marcus Breese said: "British businesses have a real exposure to bribery risk which is not currently met by any existing insurance/response product.
"Bribery is a growing and ever present danger for UK businesses, particularly those with a multi-national presence and those that use a lot of third-party vendors."
On Thursday, the British Standards Institution and City of London Police warned many SMEs were confused about their responsibilities and constraints under the act, with many over-compensating or ignoring the rules.