Zurich denies 'woeful' handling of claims, saying it responded quickly to help affected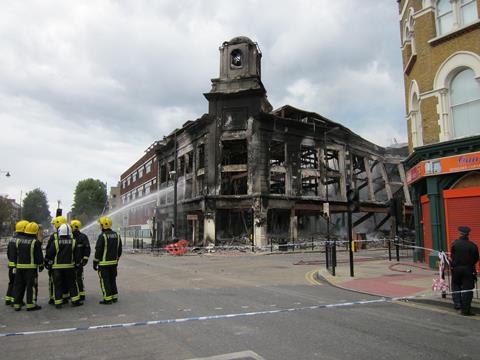 Insurers have defended their handling of this summer's riot claims after Tottenham MP David Lammy described treatment of policyholders as "woeful".
RSA and Ageas have joined Zurich, which bore the brunt of Lammy's criticism, stressing that they had settled riots claims quickly.
An RSA spokesman said a significant number of payments had been made. "Of the claims we received, we have made payments against a significant number and have settled a large proportion of these.
"While any event such as this is bound to be challenging for the industry, paying these claims and supporting our customers at a difficult time is what we are here to do."
An Ageas spokesman said it had already settled most of the claims that it had received after the rioting, though none were from Tottenham. "Of these claims, the overwhelming majority have been settled, meaning these businesses are now back up and running," the spokesman said.
Ageas and RSA were reacting to comments by Lammy on Radio 5Live last week, when he criticised insurer reaction following the riots. "People are standing destitute," Lammy said. "The insurance companies have been woeful. Shame on them, particularly Zurich, for the way they have treated people."
Zurich responded vigorously. A spokesman said: "We're sorry that Mr Lammy takes that view, as we are absolutely committed to fulfilling our responsibilities to policyholders. We were first on the scene when the police cordons were lifted and the first insurer to extend our own claims notification period to 30 days."
Zurich was hit by claims from the Metropolitan Housing Trust and asset manager Threadneedle over the arson-struck Carpetright building in Tottenham High Street. The insurer said it was quick to arrange alternative accommodation for all burnt-out residents.
"We made the first payment to our customers for alternative accommodation in the first week after the riots and indeed many more payments since," the spokesman said.
"We were also the first insurer to meet Haringey Council to discuss planning issues with a view to having premises rebuilt as soon as possible.
"We have been discussing these matters directly with Mr Lammy and his office regularly and he is aware of all our activities - including several which would not have been included in the residents' insurance policies - to help his constituents."
One broker in the Tottenham area said he had not seen any problems with the insurer response. Topaz Insurance office manager Mark Connell said "We've not experienced any difficulties and haven't heard of any."
Talking points …
● Policyholders expected faster-than-normal responses from insurers after the riots. What can insurers do to make sure they keep up the next time similar events happen?
● Insurers are keen to claim back as much as they can from police authorities, and have made more than 3,000 claims to the Metropolitan Police Authority alone. Insurers are already seeing the authorities starting to pay out, but what proportion of insurer claims will be rejected?