Vets and insurers might treat them as farm animals, says software house Aquarium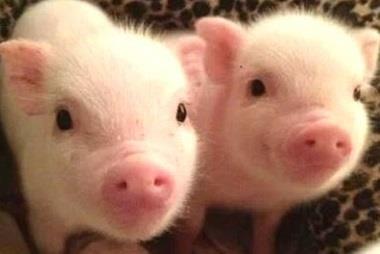 If you have a micropig, you might have problems getting pet insurance for it.
Celebrity owners have given micropigs a surge in popularity, but pet insurance software company Aquarium warns that the miniature 'teacup' pigs are set to present insurance complications for insurers, vets and owners alike.
Usually a breed known as a Bama pig; these genetically modified pigs were initially created for medical research.
"However cute, buying a pig as a pet entails considerably more risk and responsibilities than a cat or a dog," said Aquarium's sales and marketing director Mark Colonnese.
"As there is no established breed, there is no guarantee the pig you buy will stay small," he said, pointing to the experience of celebrity Paris Hilton who bought a micropig only to discover it grew up.
"Many high street vets are likely to treat a pigs as a farm animal, no matter what the size and may be classed the same by insurers. Both are likely to charge accordingly."
Microchips for micropigs could help, Colonnese said, pointing to a new law for microchipping dogs that comes into effect in April.