One person dies as residents are forced to flee homes in St Asaph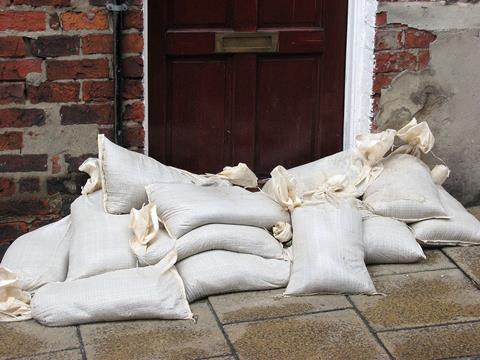 One person has died and more than 400 properties have been flooded in St Asaph in North Wales, forcing residents to abandon their homes and businesses, according to a report by GAB Robins.
The loss adjuster has received a large volume of claims in flood-hit zones, and said many areas, including St Asaph, were still at risk of flooding despite the worst of the weather having passed.
GAB Robins said it had staff on standby to visit properties in the town and start the clean-up operation as soon as the flood waters receded and they could get access.
The North West of England and Wales bore the brunt of the and weather, with winds reaching up to 55mph, sleet in the Pennines and snow predicted in the Scottish mountains today.
The River Severn at Tewkesbury peaked at 4.8m yesterday morning – its highest level since 2007, when much of the county was under water.
There are warnings of further rain today followed by freezing temperatures in the next few days, bringing the risk of ice on the roads.
Zurich, which insures a number of properties in St Asaph and Ruthin which have been affected by the flooding, has put its major incident team on the ground to assess the damage to help customers.
Zurich UK property claims director Mark Blanchard said: "We understand the absolute devastation caused by these floods and we are already doing everything possible to get people back in their homes as quickly as possible.
"Zurich's major incident team, along with our loss adjusters, are on the ground in St. Asaph today helping our customers and starting to assess the damage.
"Drying-out properties can take time, but we use expert technology and specialist consultants to help mitigate further water damage and help reduce drying times, meaning our customers can get back in their homes more quickly.

"Those affected by flooding should contact their insurer as soon as possible. We have extra people on the phones in our contact centres ready to take calls and give advice.

"We have been monitoring the weather conditions over the past few weeks in preparation, and will continue to do so in case the bad weather looks set to return."

Loss adjuster Crawford & Company, which has a taskforce in St Asaph today, said it had received a number of home and business claims.
A Crawford spokesman said: "The damage to property is extensive as water rose to seven fee. A large proportion of the damaged property consists of social housing so many homeowners will only be submitting contents claims to their insurers.

"Crawford has received a number of claims, domestic and commercial, and will be working in the area for the remainder of this week and the weekend to ensure that homeowners and businesses receive support during this traumatic time."
The Environment Agency Wales, which has issued five flood warnings and 13 alerts remain in place, said the situation was improving.