More rain is forecast to hit the affected areas in the coming hours and days
The devastating floods that have seen 1,200 homes evacuated and 500 properties flooded in communities near Doncaster in northern England could cost the insurance industry £80-£120m, according to PwC.
General insurance leader Mohammad Khan said "Although it is still early to estimate the full losses from these floods, the losses to date could see the insurance industry paying out between £80m and £120m in claims for both people's homes and affected businesses.
"This estimate could rise over the coming days depending on how much further rain falls over the rest of the week."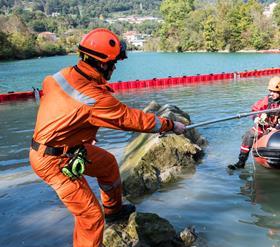 Khan pointed out that the UK insurance industry was better prepared for the floods and was "responding as quickly as possible to ensure that affected policyholders are having their needs met".
"Due to the number of significant floods that have unfortunately occurred since the flood in 2007, the industry is much better prepared in helping affected policyholders quickly in dealing with this extreme weather," he added.
Loss adjuster Sedgwick International's UK chief executive Paul White told Insurance Times that the number of new claims instructions is now starting to tail off since the influx at the start of the week.
"But whilst the number of new claims coming in have slowed to roughly half the rate we saw earlier in the week, we are also conscious that there are still some more to come – particularly from those areas where access has been a problem until now.
'Too early for accurate estimate'
"Whilst it's hugely disrupting and traumatic for those who have been affected, it does appear that the work done on improving flood defences since 2007 has had a beneficial impact.
"With the river levels at the heights we've seen this past week, we would undoubtedly have seen significantly more properties being flooded had the flood defence work not been carried out.
"It's far too early to put any sort of accurate estimate on the cost of this incident but indications suggest that, in terms of the number of properties and businesses affected, then it's not on the same scale as the last major flooding event that hit Cumbria and Northern England in 2015/16.
The floods have become a political issue amid the general election due next month. Biba yesterday called on the major political parties to confirm they will keep to the UK Government's spending pledge on flood defences post the election.
There remain 34 flood warnings requiring immediate action issued by the Environment Agency in place, and 78 floods alerts.
The Gloucestershire floods of 2007 remain the most costly for insurers to date, with the industry paying out £3bn in claims, according to the ABI.