Players slipping at high-profile sporting events, such as Wimbledon, is 'not new' - the grass courts are known to be an 'unpredictable factor'
As the UK has been slowly unwinding from the coronavirus-driven national lockdown, high-profile sporting events - such as the annual tennis championship Wimbledon - have been able to go ahead. Despite this semblance of normality, tennis stars participating in the Grand Slam have so far experienced numerous slips and trips on the famed grass courts, leaving insurers bracing for potential claims.
For example, US player Serena Williams was forced to withdraw from the tournament after twisting her ankle in the fifth game of her match against Aliaksandra Sasnovich, following a slip on court.
Speaking about what this trend might mean for brokers, David Spencer, member of the Forum of Insurance Lawyers' (FOIL) sport sector focus team and partner at law firm BLM, told Insurance Times: "High-profile sporting events will come under a health and safety spotlight as we start the return to normality.
"For the last 16 months, brokers will likely have focused their attention in resolving customer concerns around business interruption (BI) and other Covid specific claims.
"Of course, pandemic-related enquiries will continue, but this is a timely – and prominent – reminder that fundamental issues arising from health and safety and risk of personal injury will continue to be [an] important consideration for brokers in customer engagement."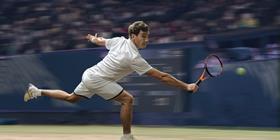 Spencer said that although recent headlines of players slipping at Wimbledon offer "a change from Covid-related health concerns", this risk is still "doubtless a concern for organisers".
But, "even players who have slipped acknowledge it is a risk in the sport, particularly when playing on grass", he added.
Unpredictable factor
For example, he pointed to Australian tennis player Nick Kyrgios. Speaking to the media following his first round match, Kyrgios said that "the grass has got that unpredictable factor where it's tough. There's no guarantee that any time you go out there, you could be injured".
However, Spencer emphasised that players slipping during Wimbledon is "not new".
He continued: "Kyrgios reportedly retired injured in 2017 from a slip and, with Wimbledon and Queens cancelled last year, [he] may be slow to recall the particular challenges of grass courts.
"We might expect insurers [that] have an interest in Wimbledon beyond the results to keep a keen eye on how this develops, but unless some particular or peculiar hazard or danger has been created (or not removed), then the venue might be properly considered as reasonably safe for the purpose which players were invited."