In its latest research, Aviva reveals that only a third of people have a designated home office space in their property
One in 10 people working from home use a converted shed, garage, outbuilding or summer house, according to a new study by Aviva, published today.
Its How We Live report said that if a particular space's use has changed, this could potentially pose a risk for insurers.
The number of homeworkers operating from converted sheds and outbuildings is expected to increase in the future, from 10% currently to 13%. Equally, this means the 22% of people who are working from their beds, sofas and dining tables at the moment is likely to decrease, to around 17%, said Aviva.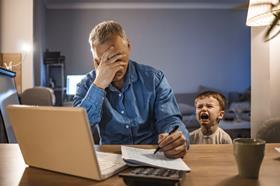 The study, which surveyed 4,000 randomly selected UK adults aged 16 and over, also revealed that only a third (34%) of respondents have a home office in their property.
Gareth Hemming, managing director of personal lines at Aviva, said: "Flexible working and homeworking practices have been around for some time, but they have really come into their own in the last year.
"Many employees report they have been less stressed and more productive as a result of working from home. They have had the flexibility to work around their personal lives and they have been trusted to work in a way which suits them.
"While homeworking is not the choice of every individual, we are likely to see more flexibility as a basic benchmark for the future, with many people working remotely, at least some of the time.
"Many insurance providers adapted their home products during the pandemic to allow people to work from home without making any changes to their policies.
"If customers are unsure about their cover, they should speak to their insurer to check it is suitable for their circumstances."
As remote working continues to become an integral part of modern employment, Aviva's research suggests that more people are planning to set up designated spaces at home.
For example, 34% of homeworkers use a home office inside their property, whereas 43% are planning to do so in the future, suggesting that existing rooms may be adapted or extensions may be built.