Stress, depression and anxiety can affect driving behaviour and therefore premiums
Two thirds of people surveyed for a study admitted that their state of mind affected their driving.
Carrot Insurance commissioned a study of more than 2,000 people in the UK around state of mind and driving. It found that almost a quarter (23%) of young drivers aged 18-24 believe that this has a big impact.
However, this belief was found to reduce with age, only 14% for the 35-44 age group believed this, and this figure dropped further to 7% for those over 55.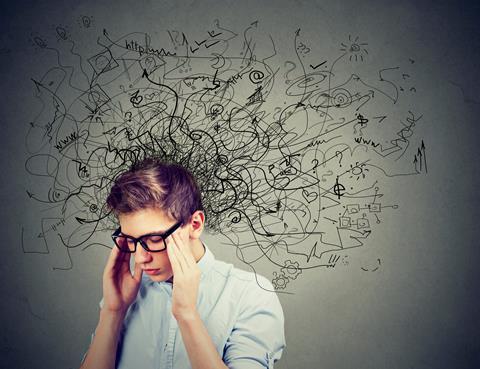 Carrot's marketing director Andrew Brown-Allan told Insurance Times: "The effect of a person's medical condition on their insurance premiums or claims validity is a matter for each individual insurer, rather than for us."
It follows Mental Health Awareness day on 10 October, and mental health as an issue moving into the spotlight for the insurance sector after brokers signalled the stress they are under from work pressure.
Stress points
The behaviour of aggressive drivers and careless pedestrians along with running late topped the list.
Nine out of ten people (89%) believe anger makes people more likely to be involved in a crash, while 84% believe that stress could be a likely cause of accidents and more than two thirds (64%) view depression as a similar trigger.
Brown-Allan told Insurance Times: "Mental health issues are often medically difficult to detect and therefore go undiagnosed. The point about telematics is that it gives a clear and scientific view of whether a person's driving is risky or dangerous - regardless of what the cause of that may be. This enables us to respond by making the appropriate intervention."
Gender differences
Driving in the dark was more of a concern for women than men with 28% reporting that it was likely to have a "detrimental effect" compared with 19% of men.
On the other hand, more men said that slow drivers (37%) and heavy traffic (26%) as likely to negatively impact their driving. This is compared with 23% and 20% of women respectively.
Speaking up
Carrot Insurance asked its customers via an online anonymous questionnaire how mental health might have affected their driving experiences. In 24 hours, the insurer received 1100 responses from people.
Around 15 % reported having either poor or somewhat poor mental health, over half (65%) said they were likely or very likely to seek help if they felt their driving was being affected by mental health.
But three quarters (75%) said they were knowledgeable or very knowledgeable about mental health issues
Managing director at Carrot Insurance, Ed Rochfort said the firm was amazed by the number of people who had responded.
"It shows the level of awareness and concern they have about mental health," he said.
"It's worrying of course that 15% of them report a degree of poor mental health – on the other hand it's encouraging that most of them would seek help if they needed it."
Paul Ripley, chief executive and founder of online driver coaching business – The Driving Doctor said: "The state of our mental health affects our attitudes, behaviours and emotions, and can therefore have a significant impact on the way we drive.
"These human factors profoundly manipulate our behavioural approach to safe driving and may have a detrimental effect on the way we think, feel, act and react to situations we meet on the road."
He highlighted that this can lead to "erratic decision making and risky driving practices".
Carrot Insurance was founded in 2012, it specialises in black box insurance mainly for younger or less experienced drivers.
In March 2018, Carrot moved its customer who had policies underwritten from Alpha Insurance A/S to Aviva.
Subscribers read more
Experts predict more broker casualties in difficult telematics market