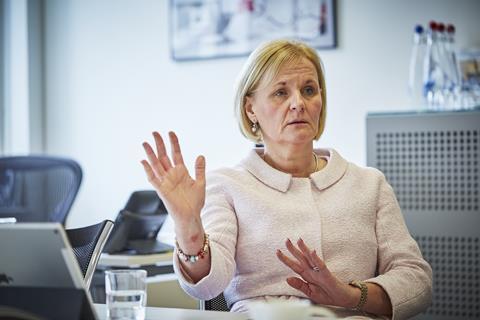 AXA's Amanda Blanc was voted Insurance Times's Insurer CEO's CEO of the year for the second time in 2015
Here she talks about her passion for claims, innovation and concerns over broking business models
There's a moment at the Insurance Times Awards when an Apprentice of the Year finalist steps outside for some air. She's just seen Amanda Blanc voted by her peers as the Insurer CEO's CEO of the year for the second time. "I'm going to be an Amanda Blanc one day," the ambitious young apprentice declares.
Not many leaders could trigger such inspiration, but Blanc is one of them.
So what makes AXA's UK and Ireland general insurance boss so compelling? For a start she gets results. She's grabbed the once perennially laggard AXA by the scruff of the neck and given it a good shake.
It's now one of the better performers among its peers. A year before Blanc took over the bulk of the business, AXA's general insurance arm was running a pretty poor combined operating ratio of 104.9% in 2010. It now stands at a healthy 97.1%.
But perhaps what makes Blanc such a force is that she shows her passions and displeasures in equal measure. She is a true heart-on-your-sleeve leader, a dying breed in a world of corporate leadership cowed by regulation and corporate governance. And today's interview with Insurance Times has all the colour you would expect from Blanc – the good, the bad and the ugly.
Blanc sees plenty of good things happening at AXA and with its customers, so let's start there.
A recent trip to flood-stricken Kendal in Cumbria has fired up Blanc's enthusiasm.
"I look at what has been done with AXA customers versus other customers and I'm pleased with what we've done. The way we helped to rebuild people's lives, to help put the plan together to get their homes and business back together quickly," she says.
"We've used data to do that, digital, technology and good old feet on the ground. It's how we've adapted to the modern world, but using old-fashioned techniques."
She pauses.
"You only asked me one question and I've realised I haven't shut up. Sorry. But it is passionate. It is palpable here, we do feel it," she says, half apologetically.
We would not have grown and had the success we've had without the support of the regional brokers."
Crowning glory
AXA's passion for claims has benefited brokers' customers. It's one reason why brokers voted in their hundreds for AXA to take the crown for commercial lines broker of the year at the Insurance Times Awards.
"Jon (Walker, commercial intermediary head) and his team have done a fantastic job in identifying the trade segments that are more important to brokers and how we design the proposition with them," she says.
"We would not have grown and had the success we've had without the support of the regional brokers."
Blanc is adamant that AXA can't sit on its laurels, especially with so much innovation happening digitally.
"We should not be frightened because we have earned our place to be here over the past five years. We have a voice and a huge brand, a proven track record and a right to be here today. We don't have a right to be here tomorrow; we only have a right to stay if we keep innovating, keep disrupting and keep thinking about customers," she says.
Innovation is another subject that lights Blanc up. She points to AXA joint ventures with fintech firms, the innovation laboratory in San Francisco and the data hub in Paris, as evidence of progress.
Blanc is excited about a product release in direct later this year. But while AXA is trying hard to innovate, not enough brokers are following suit.
"My worry is that we are constantly looking to the business models that have worked in the past, instead of looking to what those new business models need to look like in the future," she says.
What about the customer?
And this is where we come to the ugly.
On the mention of commission-hungry brokers and consolidators, Blanc noticeably deflates.
"It makes me incredibly sad, those sort of conversations because I think it's just an excuse for not adapting your business model," she says, with a hint of resignation in her voice. "Nobody is prepared to say the unpopular things. What is the model going forward? What is in it for the customer when we pay more commission to the broker? How does the customer benefit?"
So would AXA strike improved deals – whether through products, enhanced coverage or even commissions – with those customer-focused brokers?
"If a broker can do something that we can't, of course. And in many cases they can. They access customers that we can't.
"They have fantastic relationships with customers that we don't. But everything has a value."
Blanc has rebuilt AXA and, in the process, many homes and businesses with its improved claims service. But not even she can build a new business model for brokers.
Amanda Blanc will be speaking in London at the Insurance Times Innovation & Disruption conference on April 25th click below to learn more