How Adam Lee Roberts was caught red-handed by secret footage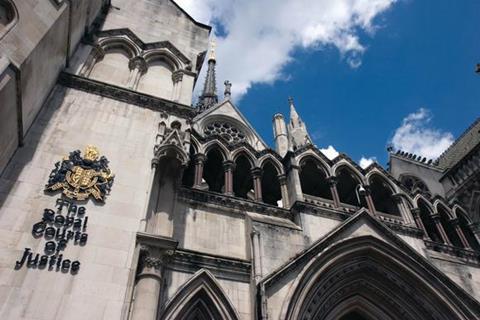 A man who claimed £250,000 damages from QBE after slipping at work has been held in contempt of court and jailed for six months.
Former Airbus Operations aircraft mechanic Adam Lee Roberts, 33, sought damages from QBE after an accident in October 2007. He claimed that he had been left staggering around on crutches and that he suffered back pain so severe that his wife had to put on his socks and underpants for him.
Airbus admitted liability and paid Roberts £8,000 on account. However, QBE and Airbus's lawyers hired private detectives who secretly filmed Roberts working on a house renovation. He was said to have been spotted lugging heavy items, including a bath and a toilet.
In the High Court earlier today, prosecution lawyer William Featherby QC told the judges there was a "colossal and irreconcilable difference between the complaints Mr Roberts made for the purposes of gaining compensation and the reality, as demonstrated in the surveillance evidence".
He added: "The surveillance evidence shows Mr Roberts to be a fit, well-muscled man, working hard, cheerfully and without any sign of pain or disability. He is clearing a house in Ellesmere Port, obviously as part of a refurbishment project.
Defence lawyer Craig Sephton QC denied that his client had done anything wrong and disputed that the surveillance evidence was "indicative of his capabilities generally".
Lord Justice Moore-Bick and Mr Justice Cranston ruled that Roberts was in contempt of court for lying under oath and handed him a six-month jail sentence.
Moore-Bick said Roberts, who was made bankrupt in October this year, had in fact, as he claimed, fallen and twisted his back while applying cable to the wing of an Airbus A380 on 15 October 2007, but was almost healed by April 2008.
The judge added: "He set out to give the impression he was seriously disabled, to the point at which he could not walk properly and could do almost nothing in the house or garden, not even help with the washing up.
"He was not significantly disabled and his condition was not as he described it. There can be no doubt that he intended to persuade the court to find that he was seriously and permanently disabled and to award him damages to which he was not properly entitled.
"He is a person who is prepared, if necessary, to lie when he thinks it is in his interest to do so."
Speaking of the surveillance DVD, the judge said: "He can be seen moving without any apparent difficulty, despite the absence of a crutch or any other walking aid, and carrying heavy objects, including a wash basin, a lavatory, a cabinet containing an electric bar heater, a bathroom wall cabinet, and several bags full of some kind of rubbish."
Lawyers for Airbus and QBE say that, had Roberts' lies not been uncovered, they would have faced a compensation and costs bill exceeding £500,000.
Moore-Bick added: "We are satisfied that you did lie to the doctors who examined you and greatly exaggerated your symptoms and ability to lead a normal life.
"You knowingly gave a false description of your condition in your witness statement. You did all these things to affect the outcome of proceedings. You set out to mislead the insurers and the court and probably would have succeeded had it not been for the surveillance evidence."
Observing that such behaviour "strikes at the very heart of the rule of law … the fundamental pillar on which the whole of civil society is based", he added: "Those who put forward false claims must expect heavy punishment in the form of a sentence of imprisonment - honest people expect fraud to be punished.
"This was a serious and persistent attempt to mislead the court."
In passing sentence, the judge acknowledged that Roberts has a sick wife and an autistic daughter and has suffered from depression: "We take into account these factors and realise they will make a sentence of imprisonment more difficult for you."
However, he rejected arguments by Roberts' lawyers that the sentence should be suspended, saying: "This behaviour is far too serious to be dealt with by such a disposal."