Brokers at our recent event in Glasgow debated why the public sector just isn't paying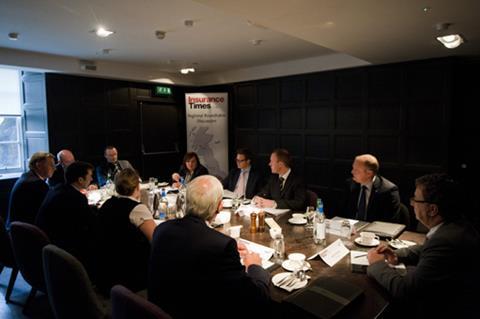 Scottish brokers are walking away from public sector work where the fees are too low to make it worthwhile, delegates at a roundtable told Insurance Times.
The group of senior brokers at the roundtable, hosted in Glasgow in association with RSA, said that the public sector procurement process was pushing brokers' fees down to an unsustainable level.
They also warned that cumbersome procurement processes were creeping into the private sector.
Marsh head of office Alistair Torbet said: "The Scottish market has a very large public sector. The OJEU [Official Journal of the European Union] tender process is purely driven by price. Sometimes we are just pulling out because it's not cost-effective anymore. That's a big dynamic in the Scottish market."
Bluefin regional managing director Colin Preston agreed. "Our view is that we have to get a reasonable remuneration for what we're doing, so we will shy away from some public sector business."
Marsh's placement leader Caroline Inglis said: "The influence of procurement teams is being seen more and more away from the public sector."
RSA regional director Scotland and Northern Ireland Dan McNally said the company focused on risk management with clients and brokers as a way to drive costs down, particularly at renewal time.
"If we have procurement teams moving into the private sector, it's really important that the teams are open to that," he said.
The delegates at the roundtable discussion, part of a series held in association with RSA, said the Scottish market was distinct from the rest of the UK. They said there was significant insurer support for local placement, and that there was no size of risk they would not consider placing locally.
"We have the best of both worlds," said Inglis. "We have a lot of autonomy, but we can also tap into the expertise and the wider Marsh proposition. I can go down to Lloyd's or deal with the marketplace. I'm a bit spoilt in being able to leverage both."
RSA's McNally said the insurer was committed to making decisions locally on every line of commercial business. "If you want to trade locally, it's there."
He added that he had been impressed by the appetite for innovation within the Scottish market. "There's a definite identity and pride in it, and there also an openness to bringing new things in."
Soundbites
It's tougher up north
"There are two differences between the south and the north - business north of the border is smaller than elsewhere in the UK, and the intensity of the competition in the Scottish market is much higher. It gets tougher the further north you move." Alistair Torbet, head of office, Marsh
Price is not a dirty word
"Up here, you can have the dialogue with the client on price - we've got the long-term relationships. Further south, that doesn't always take place. We talk much more here." Euan Drysdale, Keegan & Pennykid Insurance
We all want to trade locally
"One of the things we have driven for years is the desire to trade locally as much as possible. That's prevalent with most people around the table; we want to deal locally." Colin Preston, regional managing director, Bluefin