RSA's new chief executive Simon Lee and UK boss Adrian Brown talk about their strategy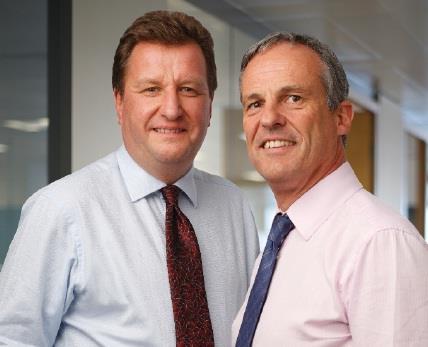 We've arrived about 10 minutes late, and there is an interview, a short piece to video and a photo shoot to do in less than an hour. If RSA chief executive Simon Lee is flustered by all this, he's hiding it well.
Then again, he's had a fair bit of practice dealing with the press lately. Unlike his much quieter predecessor Andy Haste, Lee has done a number of interviews since taking the helm of RSA on 1 November last year.
He has appeared in several Canadian publications, for example, and closer to home has been profiled recently in The Times and the Telegraph. Unless you've been fastidiously avoiding the financial press in recent months, you're probably already tired of reading that Lee is targeting small non-UK acquisitions and there is no chance of RSA taking another shot at buying Aviva.
What might be less clear is RSA's strategy for the UK broker market. Judging by some recent headlines, brokers would be forgiven for feeling a little unloved by the company.
RSA made the news in February after it axed 200 brokers from its panel. In its full-year 2011 results, it revealed it had pulled back from regional mid-market commercial business over pricing concerns. Then, it said a big reason for the 17% drop in personal motor net written premium in the first quarter of 2012 was a cut in broker capacity.
Weak SME offering
There are also concerns among brokers that RSA's SME offering is comparatively weak, its growth strategy for commercial business is unclear, and that its e-trading capabilities are lacklustre.
Lee seems determined to show that, whatever recent headlines may suggest, UK brokers are important to RSA. As well as lavishing attention on the press, he is trying to meet as many brokers and clients as possible. He will also be the first RSA chief executive in recent memory to attend the Biba conference.
"For me, it's the fun part of the job," Lee says, adding that he is able to justify the time he spends shaking hands because it is of critical importance to the business. "There is no shortage of things coming across my desk. It is a question of how you want to prioritise your time. Meeting customers and brokers is one of my priorities."
He adds: "We are trying to provide a top-class service to brokers we feel are giving us the right volumes and quality of business, and we really try to develop those relationships."
Lee can't do it alone. Also around the table is UK chief executive Adrian Brown. The two have worked together since Lee joined the company nine years ago, and they collaborated closely during Lee's time as chief executive of RSA's international business.
Lee says: "One of the great strengths of the group is our ability to collaborate and share across the businesses, and that is something we are looking to continue to foster in the new world."
It is clear there is a strong camaraderie between the two. There is no evidence of a clash of egos: during the interview, Lee is perfectly at ease with Brown taking centre stage when discussing UK strategy. And, out in the real world, Brown is equally happy to have the group chief executive alongside him when he goes to broker meetings. "Having Simon as my boss, I see somebody else who is more than happy to meet with brokers to help me win deals or handle difficult issues as they arise."
Deal with OIM
The collaboration between Lee and Brown is bearing fruit. The company has just signed a deal with Gallagher UK-owned managing general agency OIM Underwriting, which will bring in £75m of gross written premium a year over five years.
Brown cites the OIM deal as evidence of RSA's ability to develop relationships with key brokers. He is irked by the headlines about RSA cutting brokers, not because they are inaccurate, but because he feels they give the wrong impression about the company's commitment to brokers.
RSA exited the 200 relationships, he says, so it could give the remaining brokers more attention. "Those brokers hardly brought us any business at all, so this is absolutely not about us moving away from regional brokers."
Before making the cuts, Brown contends RSA may have been spreading itself too thinly. "We offered everything to everybody, and at times we had fallen short with service," he says. "If you look at Insurance Times broker service surveys, I don't think it is coincidence that those who deal with fewer brokers tend to be near the top of the list."
In commercial lines, RSA plans to devote most attention to its top 200-250 brokers, which it deals with across the spectrum of its business from global specialty business to SME. These brokers will receive the most personal treatment, including better access to key decision-makers.
There is then a second tier of about 1,000 to 1,500 brokers that are much more focused on the SME market, which RSA will look to serve through an improved e-trading offering.
In personal lines, the company is concentrating on growing its home and pet accounts, and will only write motor where it feels it can make money. But Brown denies any suggestions that the company is reducing its commitment to motor brokers. "If you look at our overall numbers, we are still absolutely committed to that community, but they know that we will play where we believe you can make money."
Investing in SME
This is not to say that RSA feels it is perfect. While pointing out that RSA has an SME market share of about 5%-6%, Brown acknowledges this is an area the company could do more in.
"We are investing in that right now, and have been over the last five or six months," he says. "SME is right on our agenda and is something we think we can get better at."
He also acknowledges that the company has not always done as good a job as it could at explaining the benefits of its personal lines offering - something it is trying to tackle with more broker roadshows.
The top RSA team has clearly heard all the various criticisms that brokers level at it, and has a plan for tackling them. The real question now is whether its efforts will resonate with its brokers. If the company is doing as much communicating as Brown and Lee suggest, it won't be too long before they find out.
THE MAN: Lee
Age: 51
Hometown: Tonbridge, Kent
First job: NatWest graduate scheme
Family: Married with three teenage children
Interests: Watching and playing sport
In his own words:
Meeting customers and brokers is one of my priorities'
THE MAN: Brown
Age: 47
Hometown: West Sussex (grew up in Bristol)
First employer: British Gas
Family: Married with two children
Interests: Golf and horse racing
In his own words:
Brokers know that we will play where we believe you can make money'
THE COMPANY
Ranking: UK's 4th largest insurer
2011 UK NWP: £3.1bn
UK offices: 20
UK employees: 8,000
Market view: A highly regarded commercial and personal lines insurer with good coverage, but needs to sharpen its proposition to brokers