The rising number of fraudulent applications and claims is prompting greater co-operation to gather information, while Allianz's chief executive argues the best way to combat fraud is to invest in staff training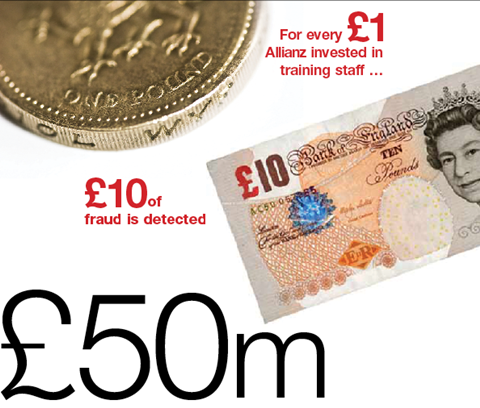 The rising numbers of application fraud is causing deep concern among insurers.
Insurance Fraud Bureau (IFB) head of analytics Kevin Reid says the rising numbers have caused the IFB to start working with the ABI, insurers and aggregators to obtain more information on application fraud. Reid says a number of different indicators and data scenarios are being trialed with market participants.
One indicator being monitored is whether there is a large number of policies, or premium spend on policies, coming from one single address. That could indicate at fraudster at work, such as a ghost broker.
These are tricksters working from home who pretend to be genuine brokers, bag money from unsuspecting insurance buyers and then disappear. The IFB hopes to share its findings with the wider industry to combat application fraud.
Drivers who lie on their initial application are 66% more likely to make a claim in the future and, as such, carry a very high level of risk for insurers.
The amount Allianz believes it has saved by reducing fraud in the last year
The investment by Allianz applies to both claims fraud and application, and the results seem to be reaping dividends. Allianz chief executive Andrew Torrance, speaking following the insurer's annual results in February, said investing in staff to combat fraud was the "best investment you can make in your company"
He said that one in 10 employees in Allianz's claims department was part of a focused anti-fraud unit, compared to one in 30 five years ago.
"The payback that you get in investment in anti-fraud capability can be realised multiple times," he added.
applications have an element of contention around them
AXA head of counter fraud Steve Gaywood said: "With claims fraud, the incidence tends to be less than 1% of your overall claims spend. But if you look at application fraud, around 20% of applications have an element of contention around them. I wouldn't say they are all fraudulent, because consumers don't always have all the information they need to make the right disclosure."
The level of fraudulent applications and claims over the past year, according to survey respondents
One big question the industry is asking itself is, what is more at play in the jump in application fraud: better detection by insurers or the economic downturn causing people to commit application fraud to reduce their premiums.
sAXA head of counter fraud Steve Gaywood says: "I'm aware within AXA that application fraud has been on the rise, but also, to a lesser extent, insurers' ability to spot it and record it has increased. I'd be very, very surprised if insurers aren't taking this seriously and don't have it in their strategy and plans."