Anita Debnath submitted 12 identical claims to 11 insurers for cash and personal items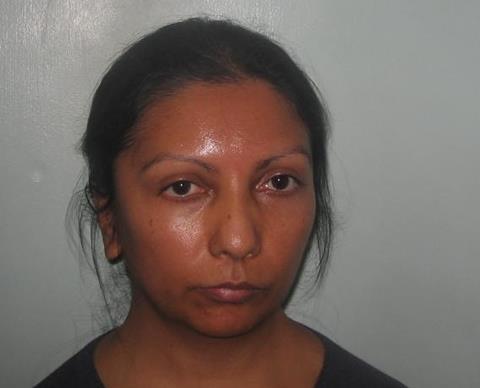 A London woman who submitted £50,000 in bogus travel and home insurance claims has pleaded guilty to fraud at the Old Bailey.
Anita Debnath (pictured) reported robberies to three different police forces in London, Leeds and Dublin before filing 12 identical claims to 11 insurers for cash and personal items she said had been stolen.
A statement from the Insurance Fraud Enforcement Department (IFED) said the items included an Asus laptop, Chloé handbag, Louis Vuitton purse, and Blackberry Bold 9900 and Motorola Aura phones.
DC Cynthia Rushie, who led IFED's investigation of the fraud, said: "In a bid to avoid detection, Debnath spread her reports out across two countries, three police forces and 11 insurers.
"Unfortunately for her, the new reality for fraudsters is that IFED is working in alliance with insurers and police forces to clamp down on people who still think they can make easy money at someone else's expense, with little or no risk of ever being caught."
Fraud timeline
In February 2012, Debnath told the Metropolitan Police Service she had been robbed close to London's Trafalgar Square, before making a claim to an insurer.
A month later, she reported to West Yorkshire Police that she had fallen victim to robbers in Leeds city centre, later submitting a claim to three further insurers.
In June, while on holiday in Dublin, she informed the Garda that she had been robbed, prior to entering a claim with seven other insurers.
One month on, she contacted the Metropolitan Police Service and stated she had been robbed again, this time in Kingston upon Thames, before making another claim to the insurer she had contacted in February.
IFED said that to make her claims appear genuine, Debnath sent the insurers a copy of the relevant police report.
Deception exposed
IFED said Debnath's deception was exposed when an insurer identified one of the claims as fraudulent and passed it on to IFED.
In August, IFED detectives arrested Debnath at her flat on Haymarket in London. A search of her home revealed insurance claims documents, an Asus laptop and the police reports supplied to the insurers.
During the course of their investigation, the detectives liaised with the three police forces to whom Debnath had reported robberies and found no evidence of the crimes having ever happened.
Debnath was subsequently charged with 12 counts of fraud by false representation.