Two freezing winters have seen more than one in 1,000 households suffer cracked pipes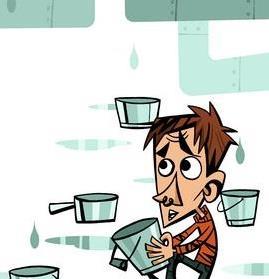 The last two years has seen one in a thousand people fall victim to burst pipes with average claims reaching £25,000, according to AXA research.
Statistics from AXA Personal Lines show that, during the freezing winters of the last two years, 'escape of water claims' have escalated by around 50% leaving tens of thousands of homeowners facing damaged or destroyed property and a total insurance bill of £1bn.
AXA calculates that the 20% of people with no contents insurance could have lost a further £23m out of their own pockets.
The average contents claim to AXA during the last two years was £6,100 and the average buildings claim was £19,200. However policyholders hugely underestimate the potential cost of a burst pipe with 83% of people estimating that a claim would cost less than £5k and 93% reckoning it would be less than £10k.
AXA's data showed that as temperatures dropped during the cold winters of the last two years, customers were three times more likely to have an escape of water claim than a theft claim and 13 times more likely than a fire claim.
Research also shows that less than 50% take the most basic and simple measures to prevent the worst happening with only 42% of households insulating pipes and 45% leaving heating on low when going out in freezing weather.
AXA Personal Lines home insurance underwriting manager James Barclay said: "Burst pipes in cold weather are a real issue. The last couple of years have cost all in the industry a lot of money and it is important that all those with an interest do what they can to ensure consumers understand the risks."