Aviva's Broker Community Fund Finale brought together brokers and community leaders to honour and enable charities across the UK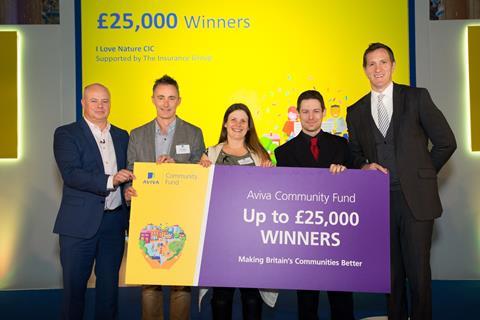 Phil Bayles (far left) and Will Greenwood (far right) present a £25,000 check to I Love Nature CIC
There was barely a dry eye left in the room by the end of Aviva's Broker Community Fund Finale.
A packed venue of over 50 winners and their broker partners gathered in the stunning Monastery in Manchester, where donations were awarded to some of the best projects across the UK, as nominated by brokers.
Winning attendees and brokers travelled from as far as Cornwall and Belfast to be presented by rugby World Cup winner Will Greenwood with their trophies and cheques, which ranged from up to £1,000 to £25,000.
It was a humbling presentation, and an opportunity to celebrate the unsung heroes of the UK, as well as for Aviva to provide critical funds to deserving projects.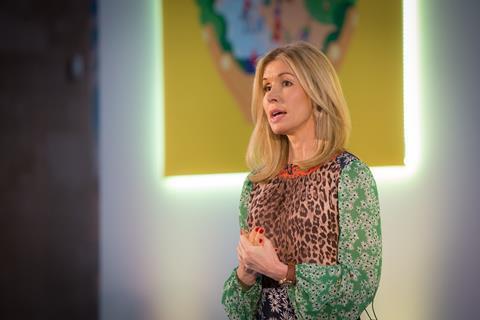 Victoria Milligan talks about her tragic experience and describes how she turned a terrible incident into a force for good
Striving for more against the odds
Victoria Milligan, who tragically lost her husband Nicko and daughter Emily in a speedboat accident in Cornwall, opened up to the room about her harrowing experience, championing positivity in the face of adversity.
"None of us really know what's around the corner," Milligan told charity representatives and brokers.
Milligan herself lost a leg in the incident and had three young surviving children who witnessed it.
She remembered her story being splashed all over the newspapers at the time, a surreal experience.
However, Milligan said her story proved that no matter the challenge, "we are strong enough to cope with it."
It was thanks to the help of volunteers, like those in the room whose projects were being rewarded, from Child Bereavement UK that Milligan was able to get through the terrible experience and continue to support her children.
It was a difficult story to hear, but an incredible revelation that Milligan's bravery has led her to raise hundreds of thousands of pounds through fundraising events for Cornwall Air Ambulance, the RNLI and Child Bereavement UK.
A day to recognise the best in communities
"This is my favourite working day of the year," Aviva chief distribution officer Phil Bayles told the room as he and Greenwood proceeded to recognise the gracious winners, which ranged from children's sports clubs, to community spaces, to animal protection groups [see full list below].
Sharing experiences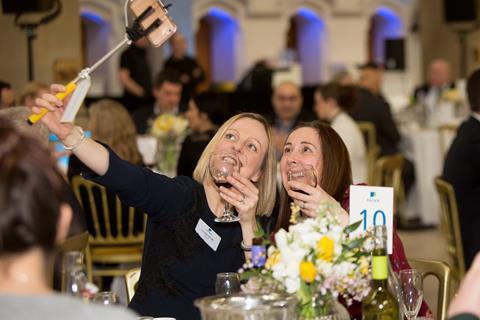 Attendees take selfies with their Aviva self sticks
The successful charities were asked to share their experiences and advice for individuals seeking to set up new organisations to help others in the future.
Not underestimating volunteers and pigeonholing them by their pre-existing skills was suggested by one group.
Self-belief, inclusion, and making the most of social media and taking chances and accepting advice were other takeaway messages from the charities.
As Greenwood put it: "Don't be afraid to ask".
Greenwood himself has been a tireless campaigner since he lost his son Freddie, who was born prematurely.
In 2014, he raised £400,000 for premature birth research charity Borne by climbing Kilimanjiro, and he revealed that he will be trekking in the Arctic later this year to raise £500,000 for the charity.
A heart-warming day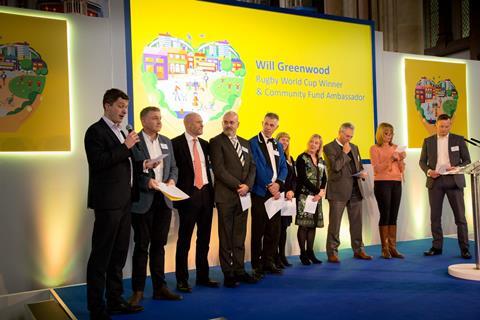 Attendees present their one pieces of advice to help people make a success of a charity project
It was a heart-warming and eye-opening day for attendees, as well as a chance to network and share ideas.
The day saw the coming together of some incredible volunteers and charity leaders, and was a true showcase of how insurance brokers are supporting and engaging with the communities that surround them.
THE BENEFITING CAUSES, AND THEIR BROKER PROPOSERS
£10,001 to £25,000 winners
Carryduff GAC (McGrady Insurance) – I Love Nature CIC (The Insurance Group) – Northumbria Blood Bikes (Wesleyan Financial Services)
£5,001 to £10,000 winners
Birstall Cricket Club (Bluefin) – The Bodie Hodges Foundation (Berkeley Insurance Group) – Tewkesbury Town Band (A Plan Insurance) – Low Moor Holy Trinity Cricket Club (Jelf Beaumonts)
£1,001 to £5,000 winners
Survivors of Bereavement By Suicide (Inman and Associates) – HMDT Music (Hyperion) – SLOW/Surviving the Loss of your World (Keegan & Pennykid Insurance Brokers) – Sale Sports Club (RBIG Corporate Risk Services) – Family and Friends of Mytchett Primary School (Carpol Insurance Consultants) – Friendship Project for Children (Arthur J Gallagher) – Trinity Winchester (Arthur J Gallagher) – Llandaff City Church in Wales Primary School (Willis Towers Watson) – The Boys Brigade Belfast Battalion (Willis & Co Insurance Brokers) – North Belfast Men's Shed (Todd Insurance) – The Immanuel Project (Cotson Reddish & Co Insurance) – Young Radcliffe (JRT Insurance Broker) – Spark Youth Club (P J Weller & Son) – SPACE (Caleb Roberts) – Citadel Youth Centre (Keegan and Pennykid) – DSAchieve (SimplyBusiness)
Up to £1,000 winners
Carolside Sports Club (Neilson Laurence & Neil) – Guernsey Occupational Health & Safety Association (Hepburns Insurance) – Tir Conaill Harps GAC (Broker Scotland) – Redditch Road and Path Cycling Club (BWA) – Norwich Division Guides (Alan Boswell) – Friends of St Peters (T H March and Company) – Macclesfield Town Ladies Football Club (J Stonier & Son) – Friends of Bramham School (NMJ Insurance Brokers) – Waggy Tails Club (Marsh) – Action for Asperger's (Henderson Insurance Brokers) – Old Penarthians RFC Mini & Junior Section (Arthur J Gallagher) – Gosbecks Primary School PTA (Towergate Insurance) – Ball4AllCIC (Aon) – Huddersfields Schools FA (McParland Finn) – Creating Ground CIC (aQmen) – Senior Staffy Club (BWA Commercial) – Carcroft Village Junior Football Club (Kudos) – Clifton Community Arts Centre (Mid Counties Brokers) – Blakes Mead Community Association (Covered Insurance Solutions) – One Big Family - Helping the Homeless (Bush & Associates) – Kingstonian Cricket Club (Howgate Insurance Brokers) – Onen Hag Oll UK (Lucas Fettes and Partners) – Elworth Guides (Barnett Jones and Cooke) – Religious Society of Friends of Selly Oak (Edwards Insurance Brokers) – 2nd Corfe Mullen Scouts (Towergate Insurance) – Chabad Lubavitch in Islington (Aon) – ACF Mansfield Under 10s (AIPS) – Tottington St Johns Cricket Club (Munro-Greenhalgh)