Brian hails "a giant leap for robo-kind"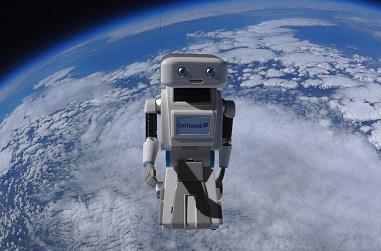 Confused.com's Brian the Robot has boldly gone where no price comparison site robot has been before.
Brian has been sent into space!
The Admiral insurance subsidiary's mascot rose to 35,200 metres above the earth - three times the height of a commercial airliner - at a rate of 5.5 metres per second.
The trip took a total of two and a half hours before the weather balloon burst and Brian hurtled back to Earth 90 miles away from the launch site. Despite the crash landing, the robot was undamaged and was able to talk afterwards.
"It's one small step for robots; and one giant leap for robo-kind," Brian said, according to Confused.com.
Confused.com spokeswoman Laura Buchan hailed Brian as "the first ever price comparison mascot to breach the Earth's stratosphere".
"Brian has travelled all over the UK, and it had always been a dream of ours to send Brian into Space," she said.
"Brian had been in training for weeks before donning his Space suit."