Graeme Newman says the insurance industry must help small businesses build awareness to cyber risks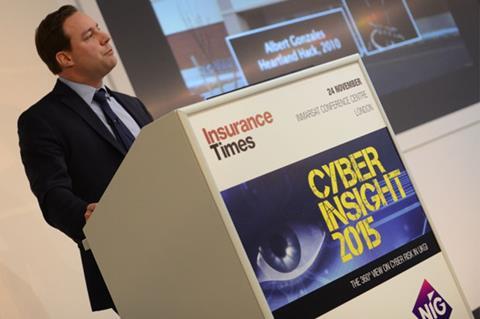 Cyber crime has become more common than any other crime, says CFC Underwriting chief innovation officer Graeme Newman, and small businesses are most at risk.
Newman told delegates at the Insurance Times Cyber Insights 2015 conference that cyber crime has become the most lucrative form of crime in the world, and many industries are yet to wake up to its risk.
"We are living in the technological revolution. It has been incredibly exciting and it has happened so fast that we have barely seen it happen.
"But that means that we haven't seen the crime element evolving. Criminals look very different these days.
"These crimes are getting smarter and small businesses are getting caught out."
Newman says that small businesses are unaware of the speed that cyber risks are developing, and it is the responsibility of the insurance industry to help address these issues.