Cyber policy wordings need refining if they are to be sold better, delegates at Cyber Insights 2015 hear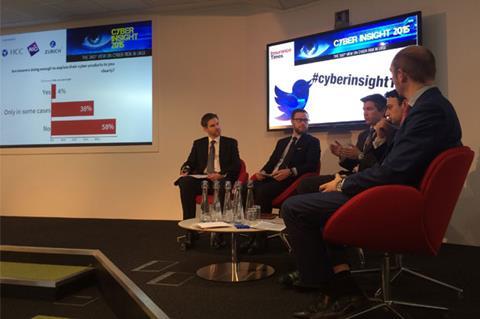 Cyber cover is currently a mixture of many different risks, including business interruption, and more must be done to refine these products, says Liberty underwriting manager Matthew Hogg.
Speaking at Insurance Times Cyber Insights 2015, Hogg described many cyber policies as a "hodge-podge" of different covers.
"Cyber really means different things to different people. There are so many risks, including reputational risk and business interruption, it can be a mess.
"At the moment, a lot of the policies are a hodge-podge of many risks and they need to be refined.
"Insurers understand how to sell these policies because they know them inside out, but brokers have to take responsibility and have one person who is an expert who can really ensure the customers know exactly what they need."
His views were echoed by AIG EMEA head of cyber Mark Camillo, who told the audience about the worst policy wording he had ever seen.
"One example was a policy that simply said it would 'respond to cyber'. Some just don't understand the risk and we have to be sure that policies are underwritten and priced so that we can understand any form of loss."
Both were speaking during a panel session featuring only insurers, after a broker session earlier in the day.
To follow live updates of Cyber Insights 2015, click here