Esure vows to improve results in 2019 after Sir Peter Wood admits a 'disappointing' year
Esure founder Sir Peter Wood admitted the latest results were 'disappointing' amid deep underwriting losses. The Surrey-based insurer racked up a combined ratio of 111.8% in 2018 (2017: 96.7%). Meanwhile, a £98.6m profit in 2017 turned into a £15.6m loss for 2018.
At the root of esure's problems were increasing claims costs in home and motor.
Esure is the latest insurance firm to suffer issues with huge losses at Saga and RSA motor problems documented.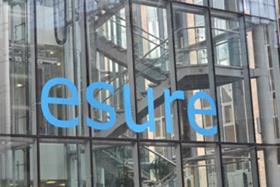 Esure's solvency woes investiged by Insurance Times
| ESURE KEY STATS 2018 | Motor | Home |
| --- | --- | --- |
| GWP | £771.4m | £90.8m |
| COR | 110.7% | 121.7% |
| Trading profit/loss | £15.2m | -£7.7m |
Big problems in motor
Motor was the biggest problem, with an underwriting loss of £74.5m (2017: £24.9m profit).
Esure blamed accidental damage inflation, deteriorating performance on prior years accounts and big weather hits in the first half of last year.
This resulted in a major worsening of the loss ratio to 88.5% (2017: 73.2%), with 4.4% taken because of strengthening reserves, especially in small and medium sized bodily injury claims.
GWP increased 5.1% to £771.4m (2017: £734.3m) and in‐force policies grew 2.2% to 1.937 million (2017: 1.895 million).
Home claims
The loss ratio in home fell to 82.1% (2017: 65.6%), although the prior year run off was much better than motor with a 3.3% release of reserves.
The underwriting loss was £17.5m (2017: £2.3m). Esure blamed large weather and subsidence in the first half of last year.
GWP increased 5.7% to £90.8m (2017: £85.9m) aided by in‐force policy growth of 6.9% to 511,000 (2017: 478,000).
Solvency coverage needs bolstering
The losses meant esure was only just above its solvency capital requirement with own funds of £356.7m (£330.3m) and solvency coverage at 108% (2017: 156%).
Chairman Peter Wood said: "The team is focused on evolving the Group's long-term strategy in response to a world which is changing at an increasing pace, with advances in digital and data analytics shaping customer expectations of all businesses.
"However, 2018 was not without challenge."