"It's crazy that we don't get intelligence until way down the line, by which time we've wasted our time and energy'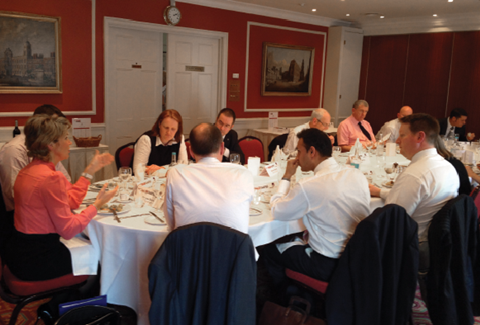 Claimant lawyers should be allowed to search the road traffic accident (RTA) portal to help them spot potentially fraudulent claims. So said law firm Carpenters partner Donna Scully at Insurance Times's second Fraud Charter round­table, in association with AXA.
The ABI is deciding whether or not to allow claimant solicitors access to search the portal, Scully added.
"The collaboration between the legal claimant community and insurers is poor or non-existent," she said. "It's crazy that we don't get intelligence until way down the line, often until we've issued proceedings, by which time the client has wasted our time and energy."
The only client checking open to claimant lawyers is the medical report included in the RTA claim process, but this is often prejudiced by the rising number of third-party cases coming through the portal with no report, Scully said. "So if the client says he's had no previous accidents and he's had five, I don't know that and I have no way of checking. I think the minimum requirement is a medical report, and even that needs to be made tougher."
However, DAC Beachcroft partner Antonia Ford said that unscrupulous claimant lawyers could use portal access to assist fraudulent claims. Fraudsters would be quick to exploit wider portal access, she said, adding that one of the first cases to go through the RTA portal turned out to be a large fraud. "They [the fraudsters] did that to test whether we would pick it up," she said.
Scully said that claimant lawyers accessing the portal could be allowed limited information to restrict any misuse by fraudulent law firms. "Even knowing if there have been previous accidents would be a big step for us."
Scully claimed that, even when warned, the Solicitors Regulation Authority often did not shut down unscrupulous law firms. "They do get notified of bad law firms, and yet nothing happens. There is no deterrent. Good people who practise properly don't want fraud; we're sick of it."
Zurich fraud and investigations manager Scott Clayton suggested that claimant lawyers could offer to disclose their referral source as a bargaining chip to help them get permission to search the portal.
"If you ever want to bridge that gap in terms of data sharing, there has to be a realisation of the disclosure of referral source," he said. "It's the one thing you can offer up as a bargaining tool to show transparency."
Soundbites
Trying to spot patterns
"We are desperately trying to aggregate our data to spot patterns, individuals, networks and companies. But giving that access, or to risk giving that access to the wrong hands, compromises that data overnight. All of a sudden you've got the 'bad guys' with access to the portal, saying: 'I want to put this data in. Does that show up as a hit? No, it doesn't. That means my ways of working are effective.'" Scott Clayton, fraud and investigations manager, Zurich
The arms race
"It's easy to look at whiplash on one side and the misrepresentation on the other. To stop application fraud from an individual, you've got to validate the individuals. To stop wholesale ghost brokers, you've got to have the same tools but across a wider spectrum. There's a massive arms race going on with the credit referencing agencies getting into the space, selling solutions ranging from £500,000 to £2m that has to be paid for somehow. What I can't get away from is that there's an office in South Wales with addresses, date of births, convictions and driver details that all of us want, but it's going to take us another 12 to 18 months to be able to tap in." Jon Howells, head of credit and fraud, Swinton
Changing perceptions on fraud
"I think there's been a lot of good publicity in the last two years that's begun to change perceptions. I don't think this is a case of the insurance industry failing to get to grips with this, but there is still a gap between what the public understands as fraud and what we understand as fraud. Look at public surveys: the percentage of people who would exaggerate a claim is substantial. The number who would invent a claim is very low. They see fraud in that black and white context, but there is a further development in the message to say there are grey areas as well." Phil Bird, director, Insurance Fraud Bureau
Keynotes
Keith Morris, chief executive, Sabre
The public are more likely to favour lower premiums than higher compensation for whiplash victims following the recent insurance summit held by the prime minister,
according to Sabre chief executive Keith Morris.
Morris said: "The insurance industry is not making a decision here; we are not in a position to make a decision.
"What we need is for society, represented by the government, to decide if it wants a high level of compensation for the victim or lower premiums. The wind seems to be blowing towards lower insurance premiums because that's throttling economic activity."
The insurance industry could benefit from performing identity checks on applicants in the rigorous way that banks and investment companies do, Morris said.
"I think the opportunity is here to do that, maybe next year," he said. "To access the DVLA database we are going to have to check driving licence numbers. That is a pretty good ID check."
A driving licence number will provide a single reference point that can be used across other databases, Morris added. "We are then starting to link people in a realistic way."
Mark Allen, assistant director for markets and regulation, ABI
Arriving at an industry-wide definition of insurance fraud is difficult, but the birth of the Insurance Fraud Register (IFR) will help, said ABI assistant director for markets and regulation Mark Allen.
"There's really no set of procedures and protocols that will help us identify and classify something as being fraud," he said. "By setting the threshold for the IFR, we are addressing part of that question, and that will form a very firm platform for the industry to move forward. We are getting buy-in for the IFR from various consumer bodies such as Which? and Consumer Focus."
Allen said that creating definitions of fraud would show that much of what is currently classed as fraud is unproven.
According to the last quarterly YouGov public opinion survey commissioned by the ABI, Allen said, 53% of the public felt 'fronting' (where parents name themselves as the main driver on a child's policy to reduce premiums) was acceptable. He suggested the public could be re-educated through the media.
Steve Gaywood, head of counter fraud, AXA Personal Lines
The insurance sector is too tolerant of fraudsters compared with other organisations such as the Department for Work and Pensions, said AXA Personal Lines head of counter fraud Steve Gaywood.
"If you're a fraudster and you hit the DWP, if they can secure the evidence they will always take you to court."
Gaywood added that cost was a barrier to prosecution, because getting an evidence pack together and going to court was often too costly to be worth the results.
"I'm not for one second saying we should throw good money after bad, but I think if you work on the basis that 20% of fraud is going to get reported, [it is] quite a low figure," he said.
The police Insurance Fraud Enforcement Department (IFED) could help overcome the cost of prosecution, Gaywood said. "We now have a route with IFED to pass on an electronic file, and the costs go down. IFED wants to be inundated with referrals going into that team."
Cautioning fraudsters would also act as a deterrent to further fraud, he added.