The government has published its plans to legislate on insurance for driverless cars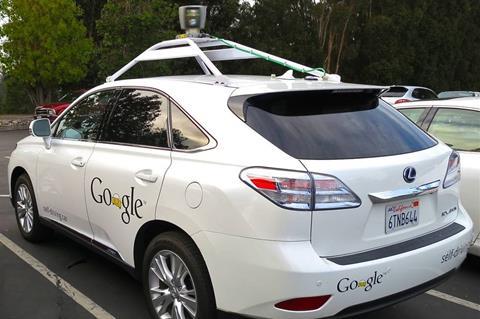 New laws will give victims of collisions with driverless cars an automatic right to claim against the vehicle's insurer, with the insurer recovering the cost of any settlement from the vehicle manufacturer or technology supplier.
The government will shortly introduce the Modern Transport Bill, which will set out regulation for driverless and automated vehicles.
The Department for Transport and the Centre for Connected and Autonomous Vehicles published their consultation document on "The pathway to driverless cars" setting out proposals for regulation and insurance.
"We will proceed to make the minimum legislative changes required to enable the market to develop appropriate autonomous vehicle (AV) insurance products," the document said.
Allianz's head of motor insurance, Jonathan Dye gave a cautious welcome to the proposals.
"We are still considering the detail in the department's response," he said, "but it seems that a number of key uncertainties relating to liability when the vehicle is in autonomous mode have now been clarified and are in line with the industry's preferred outcome."
The department of transport said that following consultation, it has amended its earlier proposals for automatic vehicle insurance.
"We will now extend compulsory motor vehicle insurance creating a single insurer model to protect victims where the AV causes a crash in automated mode," it said.
"The victim will have a direct right against the motor insurer and the insurer in turn will have a right of recovery against the responsible party to the extent there is a liability under existing laws, including under
product liability laws."
Under the new proposals, one insurer will cover both the driver's use of the vehicle and the AV technology so that the driver is covered both when driving and when the car is autonomous.
In the event of a collision when the car is in autonomous mode, innocent victims, inside or outside the vehicle, would be able to claim from the insurer.
The insurer would also pay out to the motorist if injured, unless the crash resulted from any unauthorised modifications to the vehicle's operating system, or if updates have not been installed.
The insurer will not be able to refuse compensation if the crash was caused by hacking.
The insurer can then recover its costs from the manufacturer under existing laws.
The Department of Transport said it did not foresee manufacturers blocking reimbursement to insurers.
"Insurers could potentially cease offering insurance products for the manufacturer'svehicles if their route to recovery was consistently blocked.