Watchdog will examine claim that insurers are illegally passing on customer data
The Information Commission has mounted an investigation into ex-justice secretary Jack Straw's claims that insurers are passing on information about their customers without their consent.
A spokesman for the data protection watchdog said it was examining Straw's claims, which he outlined in a letter to the organisation a fortnight ago, that motor insurers who sell clients' details to personal injury lawyers are breaking the law.
He said: "We are looking at whether the insurance companies are passing on personal information, whether they are passing on that information legitimately or doing it without customers' consent."
He said that the commission would be looking at whether the insurance firms were meeting their obligations under principle one of the data protection legislation, which requires companies to process information fairly.
He added that Straw's letter did not name the insurance companies he claimed had passed on customers' details without their consent.
On a related topic, the spokesman said that the commission was also investigating complaints that ambulance workers and police officers were unlawfully sharing information about accident victims in return for payments.
The ABI is understood to have submitted a freedom of information request to the NHS and police forces to discover how much income they are receiving corporately from referral fees.
ABI director of general insurance and health Nick Starling said he was not aware of any insurance company that was passing on customer information in breach of data protection legislation, but added that it was common practice for insurers to share details as part of the claims process.
The Information Commission spokesman also said it was investigating unsolicited text messaging by claims companies, on which topic he said the organisation was receiving around 100 complaints per month.
Anti-referral fee campaigner John Spencer, who is a director of CS2 Lawyers and vice-president of the Motor Accident Solicitors Society, said there was mounting concern among marketing professionals about spam texting by claims companies.
The Direct Marketing Association has conducted research showing that 43% of the UK population has received an unsolicited text message inviting them to submit an insurance claim.
Spencer also said that the volume of motor claims had more than doubled since 2004 when referral fees were allowed (see chart).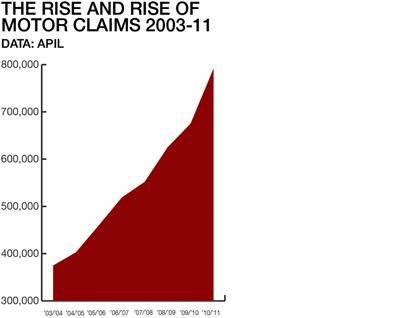 In 2003/04, there were 374,761 motor accident claims, a figure which had risen to 790,999 by 2010/11. Given that this increase happened against a backdrop of falling accident rates, he argued that there was a link between the existence of referral fees and the rising incidence of claims.
Last week, Insurance Times reported new figures from the Institute and Faculty of Actuaries showing that the proportion of personal injury claims per accident has risen to nearly a quarter of all collisions and that the number of claims management companies had increased by around 20% alone in the last year.
---------------------------------------------
Referral fees timeline
March 2004
The Law Society legalises the acceptance of referral fees.
Late 2006
The Compensation Act introduces the regulation of claims management companies by the Ministry of Justice. By 2010, there will be more than 3,000 of them in operation.
Late 2008
The Master of the Rolls commissions Lord Justice Jackson to look into the spiralling costs of civil litigation and recommend action.
January 2010
Jackson's long-awaited report is finally published, to acclaim from the insurance industry. Its wide-ranging recommendations include a ban on referral fees. The government welcomes the report – but takes no action.
May 2010
A change of government follows the general election, and the Jackson Review slips further down the agenda.
July 2010
There is welcome news when Lord Young condemns referral fees following his commission by prime minister David Cameron to look into "compensation culture".
March 2011
Justice secretary Ken Clarke confirms the government's plans to press forward with some of the Jackson reforms but not referral fees. Justice minister Jonathan Djanogoly says it would be premature to introduce a ban prior to the wider shake-up of law firms' ownership structures, set for October.
May 2011
The Legal Services Board says it will not ban referral fees among its members. The board is largely composed of lawyers. Insurance Times asks: "Are they really the right people to be making this decision?"
June 2011
Former justice secretary Jack Straw launches a public campaign against referral fees, writing in The Times that they are "a racket". In response, the Information Commissioner's Office announces an investigation into the sale of personal data. The next day, AXA announces that it will stop taking the fees.