The Insurance Times editorial team bring you all the latest updates from the event in London on 28 April as it happen

16.00: The final panel session of the IDC ended with an interesting discussion about who owns the data generated by connected devices. RSA's Kenny Leitch pointed out that the customers may own the data, but lack the ability to interpret it.
15.40: Thatcham Research chief executive Peter Shaw says it is important for insurers to understand the penetration of new driving technologies such as automatic braking, as they can have a big impact on the frequency and severity of claims. For example, just fitting auto braking can cut accidents by 10% and whiplash-type injuries by 20%
15.30: Growthleaders partner Karen Morris noted innovative companies' ability to disrupt the industry, saying: "Twitter could become the best political risk underwriter in the world" and "If [vehicle manufacturer Tesla's chief executive] Elon Musk can offer free fuel for life, it won't be long before he can offer free risk potection for life."
15.24: RSA global telematics director Kenny Leitch says connected devices will change business, and commercial lines insurers will have to change with it. "Insurers will have to run with it," he said.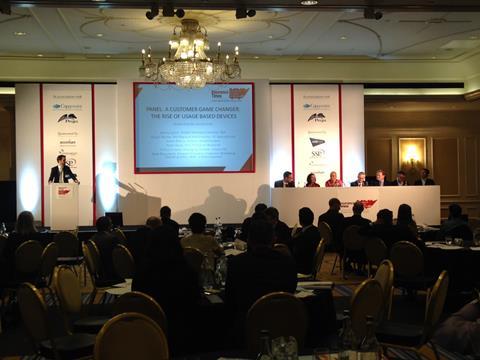 14.50: 53% of IDC delegates think that it will take between three and five years for the Internet of Things to realise its potential.
12.50: University of Manchester director of student life Dr Paul Redmond says only 7% of millennials think it is okay to submit a false claim, but half expect to engage with the industry over the next six months.
12.43: There are five generations that exist in the work place for the first time ever, says University of Manchester director of student life Dr Paul Redmond.
12.40: University of Manchester director of student life Dr Paul Redmond is up on stage for his presentation - 'Born Yesterday: Will Generation D Disrupt or Devour?'
12.35: Capgemini vice president, head of UK insurance Nigel Walsh says Wonga may be in trouble now, but adds, that there are lessons for the insurance industry in its rapid growth.
12.30: 68% of delegates disagree that young people will mainly buy insurance on peer to peer basis in five years time.
12.20: Disruption to insurance is likely to come from outside the industry, but Apple probably would not touch it, says former Apple creative director Ken Segall.
12.15: Telecomms, retail and automotive companies are most likely to disrupt the insurance market, delegates say.
12.10: Keychoice director Adrian Coupland says the industry needs to look for examples of innovation in other markets.
11.50: It is harder to "keep things simple" in the insurance industry than other businesses says former Apple creative director Ken Segall, Brokerbility chairman and CII president Ashwin Mistry agrees.
11:10 Google's Carolina Vicente also tells delegates that the internet giant has 'no plans' to offer its own insurance products, but Webhelp UK's Dave Pattman says telecoms companies are looking at getting insurance products into the monthly phone bill.
10.40: Google director of digital marketing Carolina Vicente tells delegates how brands need to 'demystify' the benefits of driverless cars and then regulation, technology and manufacturing problems will start to fall in place as demand for the technology increases.
10:25: Accenture managing director digital and innovation Roy Jubraj says there is a lot to learn from outside the financial services industry and highlights Uber as a firm getting the customer journey right: "It is all about the end consumer, and how you delight the end consumer."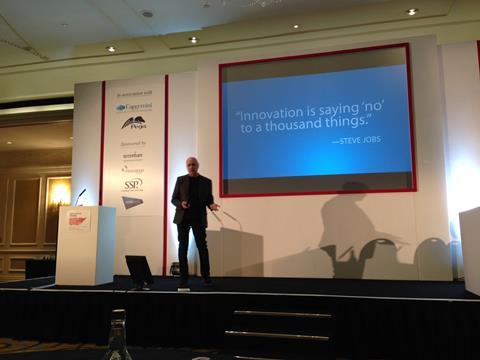 10.10: "Being simple isn't simple, it takes a lot of effort to defend against complexity," says former Apple creative director Ken Segall.
10.00: Former Apple creative director Ken Segall tells delegates: "The world is complicated, when you do something simple it stands out."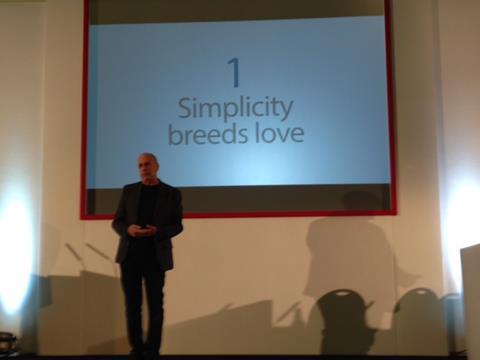 9.55: Delegates hear how Apple's Steve Jobs used to say thinking was like "removing the layers of the onion to get to the great idea inside" as Ken Segall tells tales of working with the man he describes as a "genius".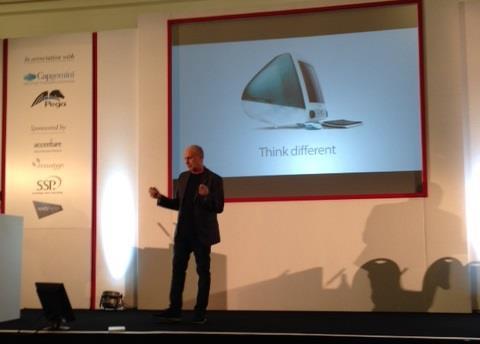 9.40: Ken Segall says keeping things simple and not distracting people with confusing options and choices was key to Apple's success. "You can have more complicated offerings, but how you present them determines whether people perceive simplicity."