Insurance Times speaks to Neil McCarthy, managing director of MPR Underwriting, about trends in the MGA market and why the title's MGA Survey proves to be so valuable for gaining business insights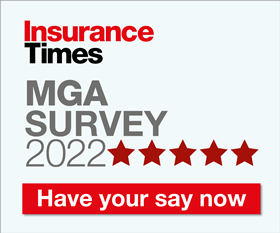 As UK brokers respond to 2022's MGA Survey, Insurance Times take the opportunity to speak to MGAs about the current and future challenges they face.
Here, Insurance Times speaks to Neil McCarthy, managing director of MPR Underwriting.
How has MPR Underwriting adapted to the challenges that have faced the MGA market over the last 12 months?
MPR Underwriting has continued to provide what we set out to achieve when we were established over five years ago.
The ambition was to provide accessibility to experienced underwriters that could make quick decisions and provide a reference point or sense check for our brokers. This has proven to be as positive a feature in the last 12 months as it has at any time in the last five years.
As well as having that accessibility, each risk continues to be underwritten by at least one of these experienced professionals. This has been advantageous in a market of constant underwriter rotation and rising referral rates from online systems.
We have continued to provide unrestricted access to our underwriters through our flexible operating model. We fully adjusted to any changing circumstances arising from the Covid-19 pandemic from day one - something which has continued through the last 12 months.
Alongside this, we have endeavoured to provide technical content and invest in our underwriting to the highest possible professional standards.
There has been a huge drive across the industry to ensure digital capabilities are in line with customer expectations. What changes have taken place at your MGA surrounding digital innovation?
What is clear from our experience to date is that brokers and underwriters still have a vital role to play in the placement of financial lines insurance. While many products and trades lend themselves irreversibly to eTrade, many do not and there is often an awkward fit. So, our emphasis remains very firmly on in-person underwriting and that will continue to be the case.
At the same time, we have invested in the development of systems to improve the behind the scenes process, refine the data quality and consistency of output.
Although digital underwriting solutions may be the answer for some, our brand position is to very much remain at the disposal of our brokers, using digital innovations to improve the speed and quality of process components. We remain uncomfortable and unconvinced about the perceived benefits of digital underwriting.

Why should brokers stick with MGAs during the ongoing hard market?
The management liability market has never been as turbulent as it was during 2020 and 2021.
Although the market appears to be settling down - and it is likely this trend will continue - the value of in-person underwriting over arbitrary and sometimes punishing blanket strategies was clear to see.
The fluctuating market demonstrated the importance of relationships and consistency of approach.
Throughout the last five years, MPR Underwriting has been accessible, consultative and arguably more consistent and settled than our competitors.
Having a business that is created around the team generates a huge amount of professional and emotional engagement that is difficult to replicate outside of the environment of an MGA.
We remain excited to match our capabilities against potentially changing market needs - we will stay focused on the characteristics of the MPR brand and on the priority of continuing to deliver a superior service in financial lines.
There continues to be concerns around the potential reduction or removal of capacity from an MGA. What are your thoughts on this topic?
This has always been a feature of the MGA landscape, so it is nothing new. Ironically, in the financial lines market, the greatest inconsistency and turbulence has been created by the withdrawal of capacity and radical strategy changes from the company market.
A strongly differentiated MGA is arguably better positioned than most companies because it will have more options to respond to an unexpected sequence of events. Where key distribution and experience advantages exist, MGAs might be regarded as a safer solution because of the flexibility inherent in the organisational structure.
With the constant recycling of underwriters in the company market, the stability an MGA can provide can be critical to placement strategies for brokers - particularly if they know the underwriters are coded into the DNA of the MGA.
How has last year's MGA Survey results impacted your service or products?
The 2021 survey really underlined the value that our brokers attach to accessibility and the ability to have a conversation with an experienced and commercially sensitive underwriter on any financial lines class of business.
The survey helped us raise our profile and showcase what it is we are able to deliver. In many ways, it has made us more focused and more determined to work towards maintaining that very high standard we have set for ourselves because Insurance Times' Five Star Rating Report: MGA Market 2021/22 results are a direct measure of that.
We attach huge importance to the survey because, for us, it is the most important measurement - are we delivering against our promises to our highly valued broker partners?
It has been fantastic to promote the five star rating and read the testimonials from brokers - this drives our product development and service aspirations. It also underlines the importance of our aim to provide the clearest and best quality products and associate the brand with excellence.
What insights or broker feedback stood out to you the most from the 2021 MGA Data Insight Book associated with the report?
It is difficult to isolate specific comments because we valued them all, but we were delighted that the consensual position was that we had delivered against our day one ambition.
One of the key concerns in 2017 was whether MPR Underwriting was the answer to a question that no brokers had asked. Reading through the commentary was a thoroughly rewarding and often humbling process.
To be recognised for our expertise, accessibility, knowledge, experience and ability to solve problems is the very reason we believed MPR Underwriting ought to exist. Commentary on this and on our responsiveness in helping our brokers manage solutions for clients through a very difficult time was a particular highlight, but all of the feedback was welcomed and appreciated by the team.