Only 11% of survey respondents said insurance had the best customer service
The insurance industry has ranked last in a survey about which industries provide the best customer experience and service.
In survey by service consultancy Engine, which polled 1,024 UK adults between 22 and 25 June this year, only 11% of respondents mentioned the insurance industry as providing the best customer experience and service.
Insurance was one of 14 sectors covered by Engine's survey, which asked respondents: "Which sector has the best customer experience/service?"
Respondents ranked insurance considerably worse than banking, which came in sixth place and was mentioned by 23% of respondents as having the best service.
Retail topped the ranking, with 38% of respondents praising this sector's service.
The survey also found that insurance ranks 11th on how much customers' choice of provider is influenced by the quality of customer service and experience. Banking ranked fourth on this measure.
Engine co-founder Oliver King said: "Insurance suffers from two key problems in terms of customer experience.
"It's a product people are obliged to have rather than want. Plus, on the rare occasions they do interact with the provider, it normally has negative connotations – either going through the sometimes onerous claims process or receiving a renewal notice, often accompanied by an increase in premium.
"To compound the situation, customers are unaware of the complexity of current underwriting and claims processes, so their expectations of a simple and speedy settlement are high."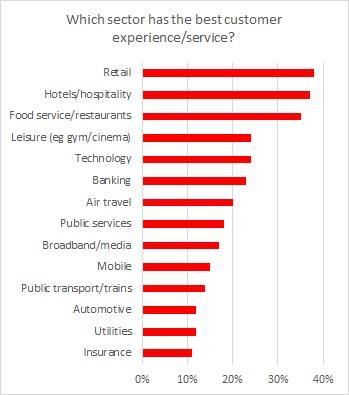 Source: Engine customer experience survey 2015